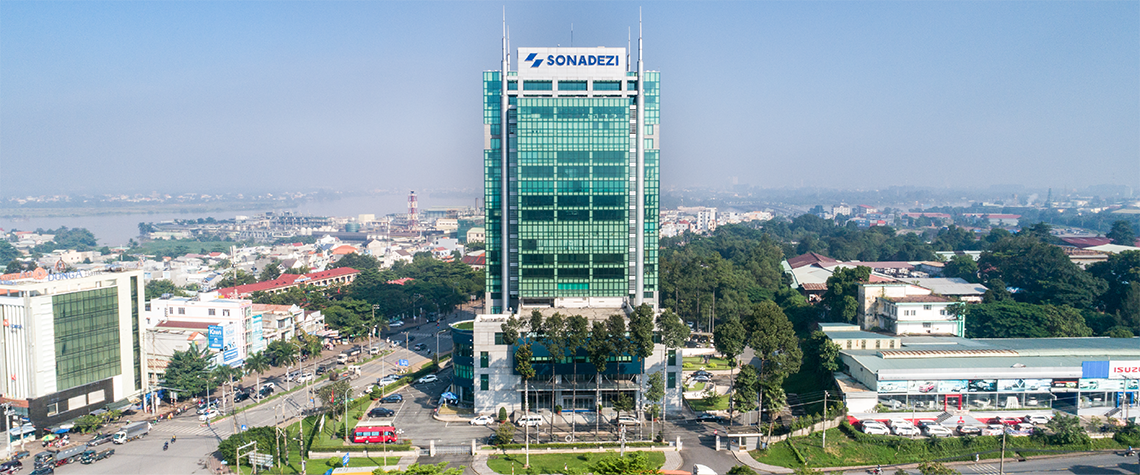 Homepage
Corporation Information
Corporation Information
---
General Information


-

Vietnamese name:

TỔNG CÔNG TY CỔ PHẦN PHÁT TRIỂN KHU CÔNG NGHIỆP
-

English name:

SONADEZI CORPORATION
-

Abbreviation name:

SONADEZI
-

Address:

No.1, Road 1, Bien Hoa I Industrial Park, An Binh Ward, Bien Hoa City, Dong Nai Province
-

Tel:

84 251) 886 0561
-

Fax:

(84 251) 886 0573
-

Email:

contact@sonadezi.com.vn

Vision - Mission - Core Values


VISION:

To become a leader in the field of industrial real estate, civil real estate and support services in Vietnam.

MISSION:

To provide the most effective and reliable products and services that bring true values to customers. Make a long-term contribution to the sustainable development of the province, turning Dong Nai into one of the largest industrial services centers in Vietnam.

CORE VALUES:

TRUSTWORTHINESS: Build and maintain trust and loyalty with customers, partners, and the community.

ETHICS: Conform to the highest ethical standards in business practices, in customer and community relationship management. Ensure business development goes hand in hand with environmental protection.

WISDOM: Be practical and effective. Focus on continuous improvement.

Milestones


1990 - 1995

On December 15, 1990, Dong Nai Provincial People's Committee issued Decision No. 1713/QĐ-UBT on the establishment of Bien Hoa Industrial Zone Development Company as a state-owned company of which initial business was developing and trading industrial zone infrastructure in Dong Nai province.

In the first stage since its inception, Sonadezi expanded its operational scale with Bien Hoa 2 Industrial Zone Project (365 hectares), which was one of the first industrial zones operating in Dong Nai after the open-door policies came into effect.

The next industrial zone project of Sonadezi was Go Dau Industrial Zone (182.4 hectares), which was the only industrial zone equipped with a complete internal port system with a capacity of up to 30.000 DWT.

Sonadezi also contributed 30% of the capital in a joint venture with Thailand Bangpakong Group to establish Amata Vietnam Industrial Zone (phase 1) with an area of nearly 130 hectares and another 30% in a joint venture with Namfatt (Malaysia) to establish Vietnam-Namfatt joint venture company of which main business was steel structures manufacturing.

1995 - 2000

Using the experience gained in the previous period, Sonadezi continued to develop its key projects including:

- Constructing the most modern wastewater treatment plant in the southern key economic region at that time, applying advanced technology from Europe with the capacity to treat 8,000 m3 / day and night (Phase 1 is 4,000 m3 per day).
- Investing in civil real estate: An Binh residential area project with nearly 20 hectares, selected as one of 10 typical architectural projects on the occasion of 310th anniversary of Bien Hoa - Dong Nai.
- Establishing 3 affiliates of which main roles were managing the infrastructure operations and customer care (Bien Hoa 2 Industrial Zone Infrastructure Enterprise, Go Dau Industrial Zone Infrastructure Enterprise, Environment Management Enterprise).

2000 - 2005

In accordance with the policy on the equitization of state-owned companies, Sonadezi equitized Construction Enterprise and established Sonadezi Construction JSC that came into operation on January 7, 2000.

This period is known as strong development milestones of Sonadezi, to achieve outstanding results and develop many new projects:

- Upgrading the infrastructure in Bien Hoa 1 Industrial Zone (340 hectares).
- Investing to Long Thanh Industrial Park & Residence (448 hectares), is a new model of industrial park combined with residential areas and worker dormitories.
- Investing to Xuan Loc Industrial Park (108 hectares), is a mountainous industrial park in a remote and difficult area.
- Invetsing to Trang Bom Residential Area (10 hectares), Tam An 1 & Tam An 2 Residential Area (65 hectares), Phuoc Lai Residential Area (1 hectare)

Sonadezi also developed its quality management system and achieved ISO 9001:2000 certification.

2005 - 2010

On July 1, 2005, Sonadezi Corporation began operating as a holding company, and including 20 subsidiaries and 02 affiliates.

This period saw many difficulties in manufacture and business, foreign investment decreased, fierce competition. Sonadezi has promoted the strength of its member companies to link manufacture and business development, figure out investment opportunities in large-scale projects, improve production capacity and service quality. Some specific results as follows:

- Sonadezi continued to establish new industrial zones: Chau Duc Industrial Zone – Urban Area Complex (2.287 hectares in Ba Ria Vung Tau province), Giang Dien Industrial Zone (529.2 hectares), Thanh Phu Industrial Zone (177.2 hectares), Suoi Tre Industrial Zone (150 hectares).
- Establishing Sonadezi College of Technology and Management. The college came into operation and admitted its first class on June 06, 2015. This was the first college in Dong Nai owned by an enterprise.
- Sonadezi invested in numerous breakthrough projects: Sonadezi 20-storey Office Building is the highest building in Bien Hoa City; Nguyen Van Troi Apartment Building in Bien Hoa city with 4 13-storey blocks is the first apartment complex in Dong nai Province.
- Constructing Nhon Trach Water Supply Plant Phase 1 (with a capacity of 100,000 m3 per day), Thien Tan Water Supply Plant Phase 2 (with a capacity of 100,000 m3 per day)
- Investing in 768 BOT project, Hoa An Brigde BOT project

Sonadezi also upgraded Dong Nai Port in order to increase its capacity to 3 million tons per year and equip 2 new cranes with a lifting capacity of up to 70 tons.

2010 - 2015:

On April 29, 2010, Bien Hoa Industrial Zone Development Company turned into an Industrial Zone Development Corporation (Sonadezi) that operated as a holding company under Decision No. 1042/QĐ-UBND of the Chairman of Dong Nai Provincial People's Committee.

In 2015, Dong Nai Provincial People's Committee assigned Sonadezi as the state-owned capital unit at Dinh Quan Industrial Zone JSC and turned Dong Nai Urban Environment Service Co., Ltd. into Sonadezi's subsidiary.

2015 up to now:

Marking an important milestone in the process of establishment and development. On February 1, 2016, Sonadezi entered a new development step through officially operating as a joint stock company with charter capital of 3,765 billion dong, of which the state owns 99.54%.

Currently Sonadezi Corporation that comprises Parent Company and 16 Subsidiaries operates in 4 sectors which are Industrial and civil real estate, Construction and material trading; Service and support products; Water supply and water products.

Sonadezi Corporation aims to carry out operational restructuring as well as standardize brand, system and business model in preparation for the next phase of development.
Group 1: Industrial and civil real estate

The Corporation and its subsidiaries are directly investing or joining in joint venture to exploit 11 industrial zones in Dong Nai province and 01 industrial zone in Ba Ria – Vung Tau province with a total area of nearly 4,810 hectares, accounting for 34% of the total existing industrial land area in Dong Nai province and 17.6% in Ba Ria Vung Tau province. The Corporation currently leases out 50% of the industrial land area.

Thanks to the competitive advantages in terms of favorable geographical location, uniform technical infrastructure, the Corporation's industrial zones have attracted a great amount of domestic and foreign direct investments.

Group 2: Construction and materials trading

In the form of capital contribution, joint ventures, and affiliation, the Sonadezi has invested in plenty of infrastructure construction projects, for example, the BOT project on road 768, the Hoa An Bridge Improvement Project, Dong Nai Port Expansion Project, investment projects to build clean water supply systems in Dong Nai province, projects to exploit construction materials in Thien Tan and Tan Cang quarries, etc.

Group 3: Services and support products:

Services and support products provided by the Corporation and its subsidiaries include college-level vocational training, restaurant services, accommodation establishments, high-end offices, passenger and freight transport by road and waterways, wharves and warehouse rental, goods handling, wastewater treatment, industrial waste treatment, etc. Companies that are operating in the Corporation's industrial zones and in other industrial zones in Dong Nai province are seen as target customers.

Group 4: Water supply and water products:

Sonadezi is the only water provider for residential areas and industrial zones throughout Dong Nai province and owns a number of clean water plants with a total capacity of 349,000 m3 per day. The amount of water supplied in 2014 reached over 78 million m3.

A. BOARD OF DIRECTORS
1. Ms. Do Thi Thu Hang – Chairwoman
2. Mr. Tran Thanh Hai – Member of the BOD
3. Ms. Luong Minh Hien - Member of the BOD
4. Ms. Nguyen Thi Hanh - Member of the BOD
5. Mr. Dinh Ngoc Thuan - Member of the BOD
6. Mr. Nguyen Van Tuan - Member of the BOD
7. Mr. Pham Quoc Chi - Member of the BOD
B. BOARD OF MANAGEMENT
1. Mr. Tran Thanh Hai – CEO
2. Ms. Luong Minh Hien – Deputy CEO
3. Ms. Nguyen Thi Hanh - Deputy CEO
4. Mr. Dinh Ngoc Thuan - Deputy CEO
5. Mr. Truong Dinh Hiep - Deputy CEO