January 07, 2020 marks the 20th Anniversary of Sonadezi An Binh JSC (SZA) – a 20-year-long journey to gain prestige and build a strong brand identity in the market.
This milestone that marks the beginning of journey is the time when SZA was equitized and used the name of Sonazedi An Binh. Sonadezi An Binh initially was the Industrial Construction Company of Dong Nai Department of Industry, established on August 3, 1977. By 1992, the Company was merged into Bien Hoa Industrial Zone Development Company (now Sonadezi Corporation). SZA officially operated as a joint stock company on January 07, 2000, and became a subsidiary of Sonadezi Corporation.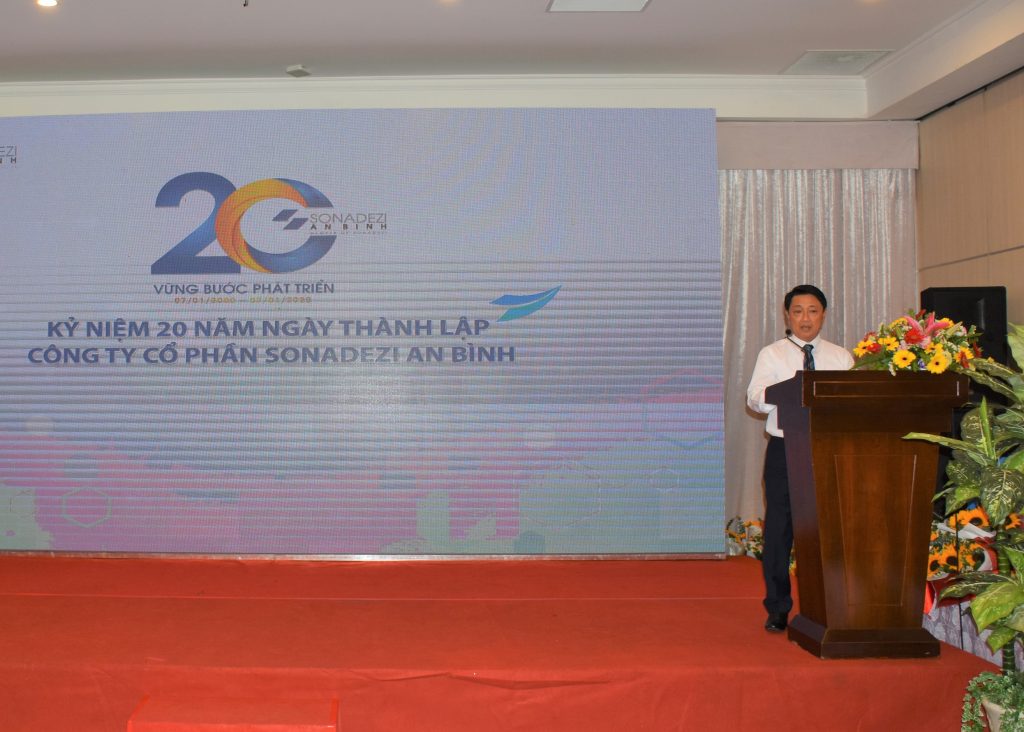 Sonadezi An Binh's achievements
Looking back at 2 decades of development, the most significant achievements of Sonadezi An Binh and its employees are successfully building a prestigious brand and creating a unique brand identity in each product. Achieving operational efficiency in the fields of industrial zone infrastructure construction, industrial factory leasing, civil real estate business, construction materials production and trading, etc., Sonadezi An Binh is on the path towards sustainable development.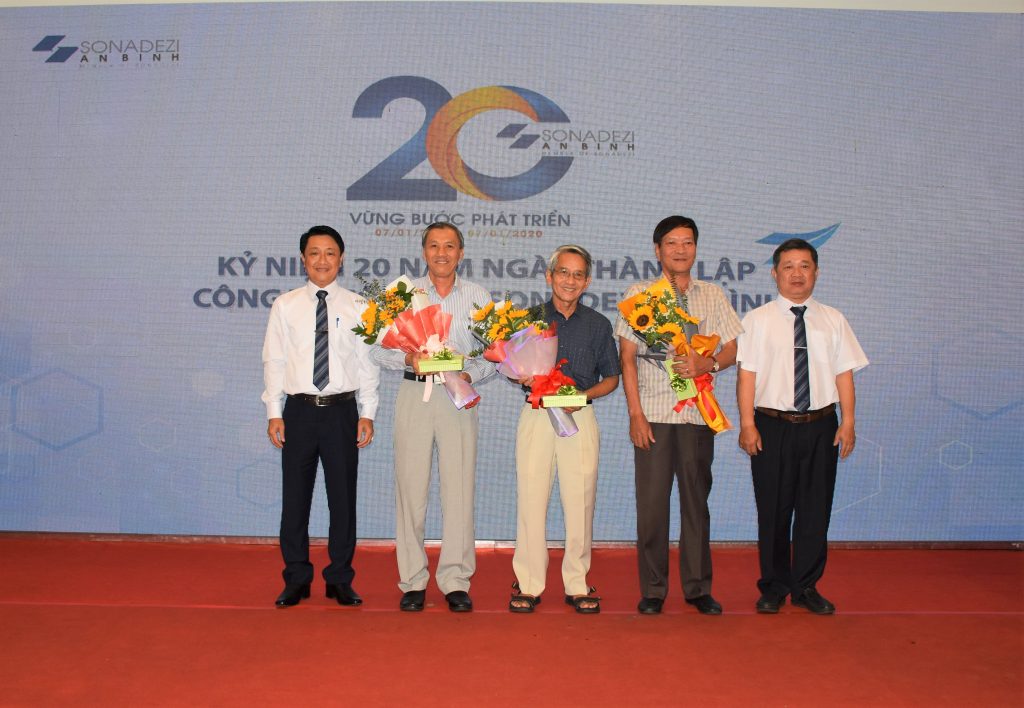 In the last five years (2015 – 2019), Sonadezi An Binh achieved total revenue of about VND 1.331 billion, profit after tax of about VND 52 billion, contributed VND 24 billion to the state budget and paid dividends at 20%. In 2019, Sonadezi An Binh achieves about VND 278.7 billion in revenue, reaching 102% of the plan; about 11.5 billion in profit after tax, reaching 126% of the plan; intending to set the dividend yield at 20% and paying the salary for employees at the average of VND 8 million/person/month.
Over the past 20 years, thanks to Dong Nai province's effective strategies and rapid industrial development as well as the determination to rely the development on quality and prestige, Sonadezi An Binh's leaders and employees always ensure the greatest quality in each product and strive to fulfill the commitment made by the company with the aim of achieving the high level of customer satisfaction.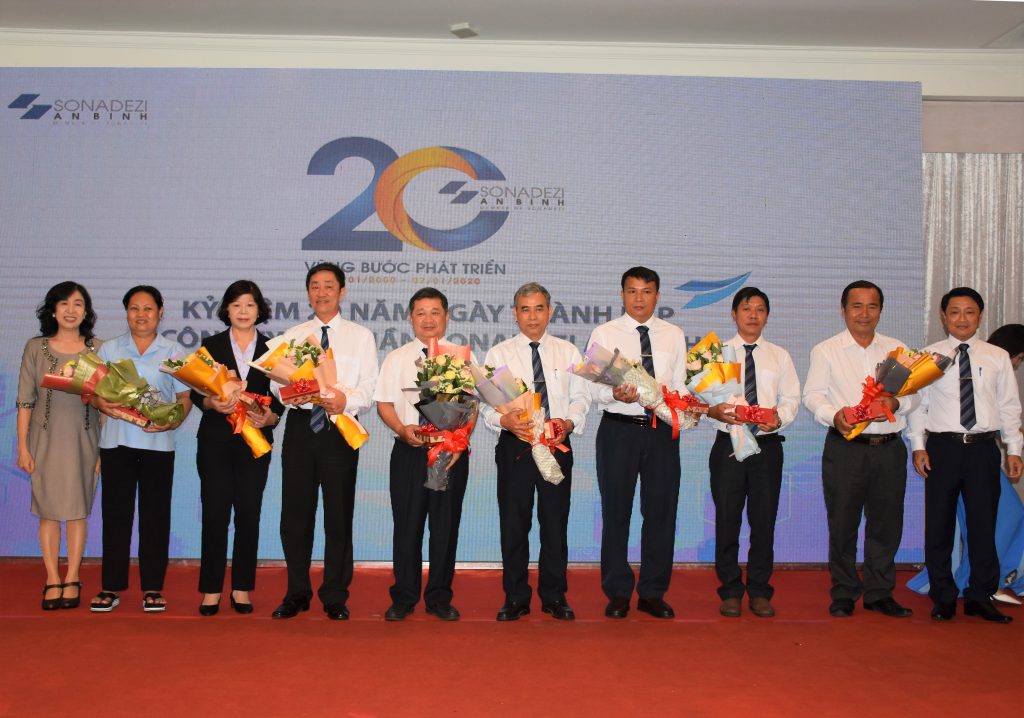 During the journey, Sonadezi An Binh has managed to leave a lasting impression with the success it achieves at Suoi Tre Industrial Zone (149.5 hectares). Up to date, 98% of the land in Suoi Tre Industrial Zone is leased out. 18 investors that operate their businesses in the area of ​​95.9 hectares contribute about VND 50 billion per year in revenue for the industrial zone. Regarding the remaining land area, Sonadezi An Binh is building a cluster of factories for rent purpose that covers an area of 25,000 m2. Besides, in order to meet the needs of both new and old customers who want to rent land in the industrial zone, Sonadezi An Binh intends to expand the area of Suoi Tre Industrial Zone by 4 hectares.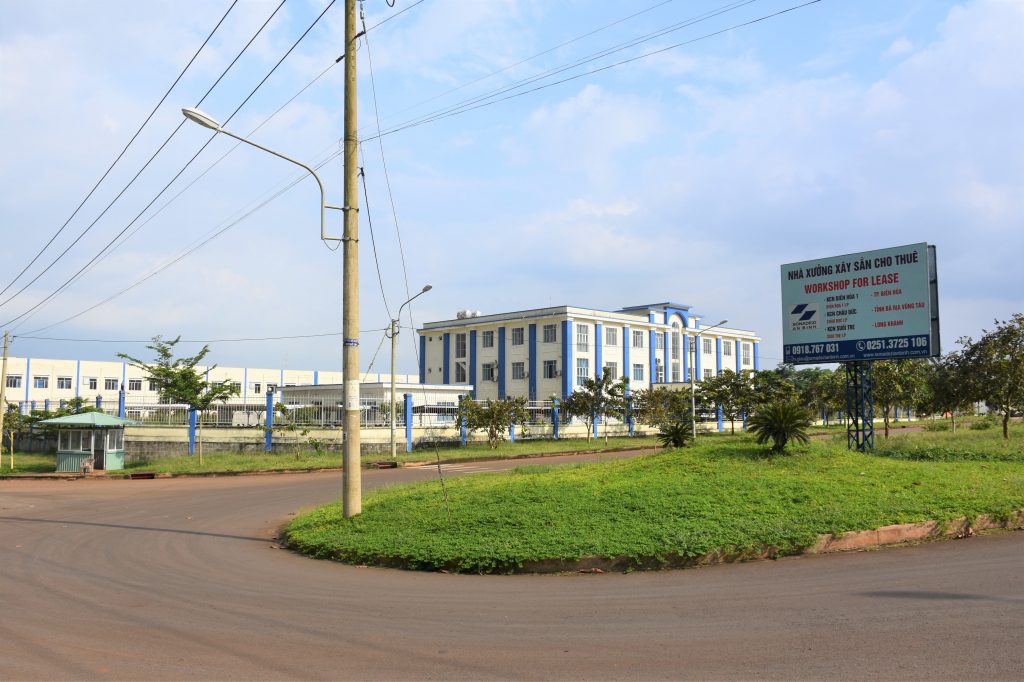 Sonadezi An Binh also develops effectively in the sector of factory rental in Bien Hoa 1 Industrial Zone with a total factory area of ​​nearly 10.000 m2. This cluster of factories is operating stably and meeting the needs of all customers (all of them are Korean companies).
Regarding residential areas projects, it can be said that An Hoa 2 and An Hoa 3 Residential Areas; B1 Apartment (belonging to high-rise apartment building on Nguyen Van Troi street, Bien Hoa city) are all remarkable achievements of Sonadezi An Binh. With these projects, the Company meets the needs of many peoples who want to buy a house for settling down or use it as a form of speculative investment. Among them are engineers and employees working in industrial zones; residents living in the province or surrounding areas. These residential areas are all located in favorable areas, built in modern settings and equipped with essential facilities.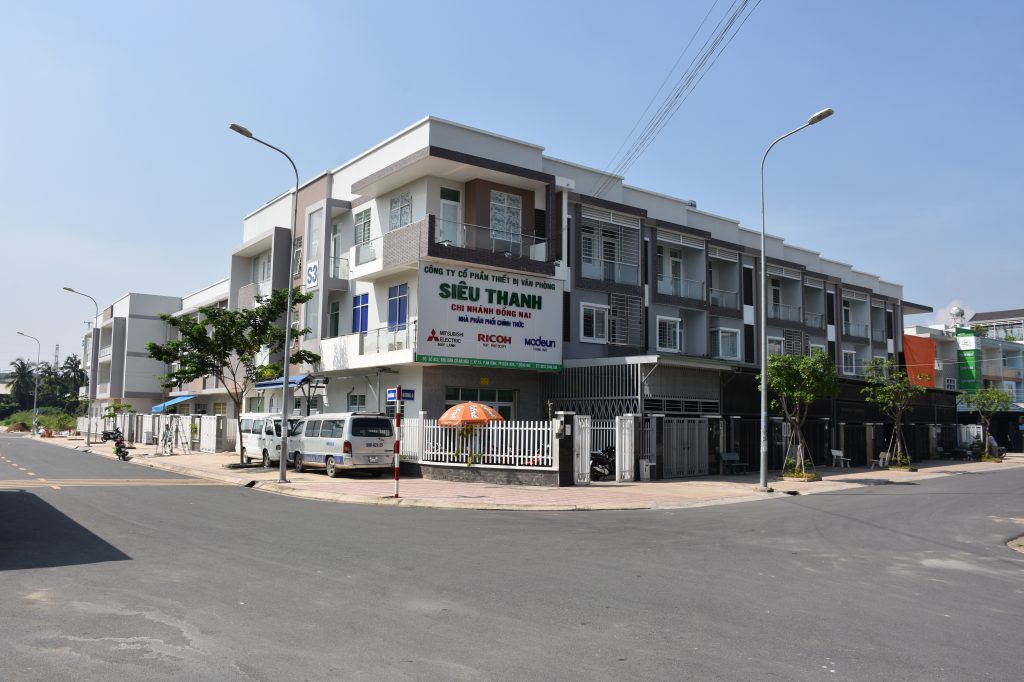 Regarding the traditional sector of design and construction, Sonadezi An Binh establishes a firm position and proves its year-long experience through construction works highly appreciated by customers for quality, progress, and safety. Therefore, Sonadezi An Binh constantly expands its market share and customer base and achieves about VND 145 billion in annual revenue. Several remarkable achievements of Sonadezi An Binh are ready-built factory in Long Thanh industrial zone, Chau Duc industrial zone, Suoi Tre industrial zone and  Amata industrial zone, Highway 91 in Can Tho and numerous large-scale residential areas.
Another achievement of Sonadezi An Binh in the past 20 years is the success in researching, investing and developing commercial concrete products. Sonadezi An Binh's commercial concrete has been used in plenty of construction sites, for example, the Factory of Robert Bosch Vietnam Co., Ltd., 6-storey Tam An Apartment Building (Long Thanh district, Dong Nai city), Taihan Sacom Cable Works, Wastewater Treatment Factory in Long Thanh Industrial Zone, Suheung Vietnam Factory, Samil Vina Factory, Olympus Vietnam Factory, Big C Supermarket (expansion) in Bien Hoa City, Long Thanh Plaza, Sonadezi Office Building, Namyang Factory, Tan Bien 2 Resettlement Area, etc.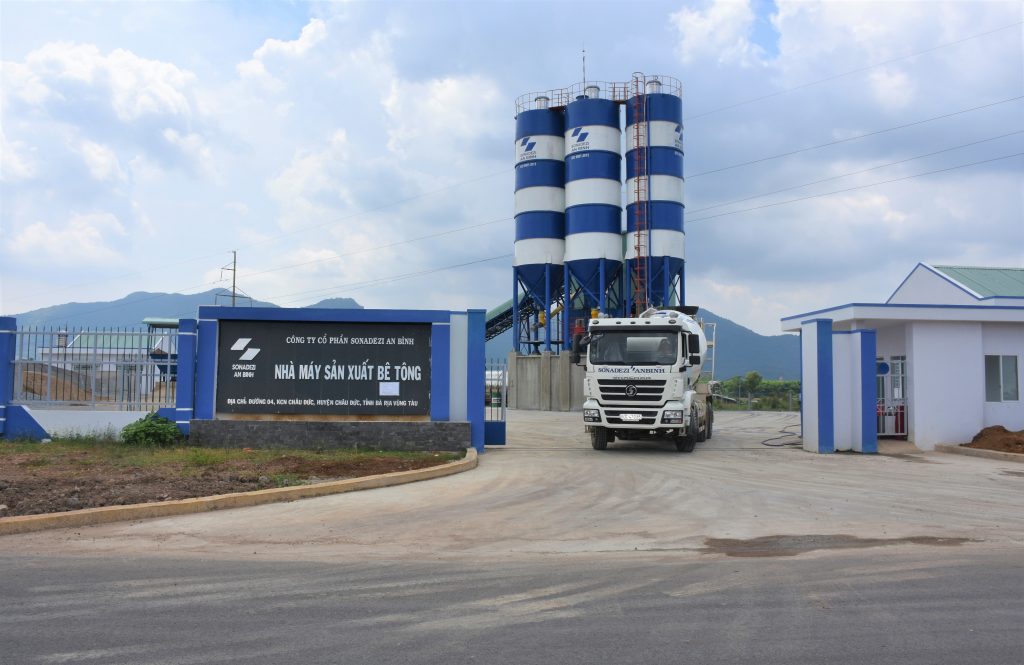 Currently, the Company's Concrete Factory (including three mixing plants, one in Long Thanh Industrial Zone, one in Bien Hoa 1 Industrial Zone and one in Chau Duc Industrial Zone) with a total output of over 90,000 m3 contributes about VND 100 billion to the total annual revenue of Sonadezi An Binh.
In addition to the achievements in production and business activities, Sonadezi An Binh also participates in plenty of charitable programs, for example, "Hearts of Gold" program, scholarship programs for students, financial assistance for poor patients, rural transport improvement. 
Internal resources building and goal setting
Over the past few years, in order to build internal resources and meet development needs, Sonadezi An Binh carried out organizational restructuring and focused on building an increasingly professional and enthusiastic staff. The company also completely upgraded its management system to the standards of ISO 9001: 2015 and was certified by Bureau Vertas Certification (BVC) in 2018.
According to Sonadezi Corporation's evaluation report, Sonadezi An Binh was one of the subsidiaries that consistently completed the tasks and achieved the growth in terms of scale, efficiency, asset value, etc. especially always strived to preserve and promote the identity and reputation of Sonadezi brand. Sonadezi An Binh, therefore, contributed greatly to the overall development of Sonadezi Corporation.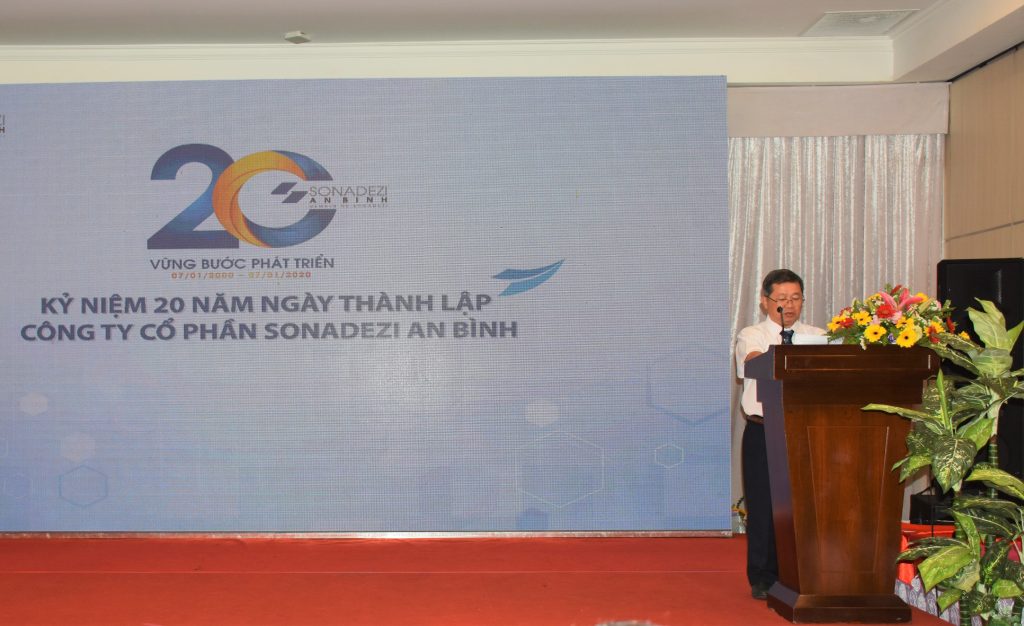 At the 20th Anniversary, Mr. Le Anh Hoan – CEO of Sonadezi An Binh JSC said that in the foreseeable future, in order to enhance the brand value and use resources effectively, the Company plans to focus on improving governance capacity, promoting employee development, applying advanced equipment and technology with the aim of increasing productivity and product quality. Therefore, Sonadezi An Binh will develop existing projects in an effective manner and achieve the goals, for example, increasing the production of construction materials to 110.000m3, completing and leasing out all the factory clusters that cover an area of 1.5 hectares in Chau Duc Industrial Zone, investing in projects of residential areas construction and continuing to seek other construction projects, both inside and outside the province.
In 2020, Sonadezi An Binh strives to achieve VND 300 billion in revenue (up 110% of the 2019 plans); VND 12.4 billion in profit (up 136% of the 2019 plans) and pay dividends at 20%.
After two decades of expending efforts and making practical contributions to the local development, Sonadezi An Binh JSC was honored as "Excellent Company" by Dong Nai Provincial People's Committee (from 2016 to 2018) along with many other certificates of merit including "Excellent Team" in 2014, 2016 and 2018, "Cultural Standard Company", etc.