Recently, at the Award Ceremony for Famous Trademark Certification – Vietnamese Competitive Brands 2020 held by the Vietnam Intellectual Property Association on September 26, Sonadezi Industrial Park Development Corporation was named in the top 50 Vietnamese brands.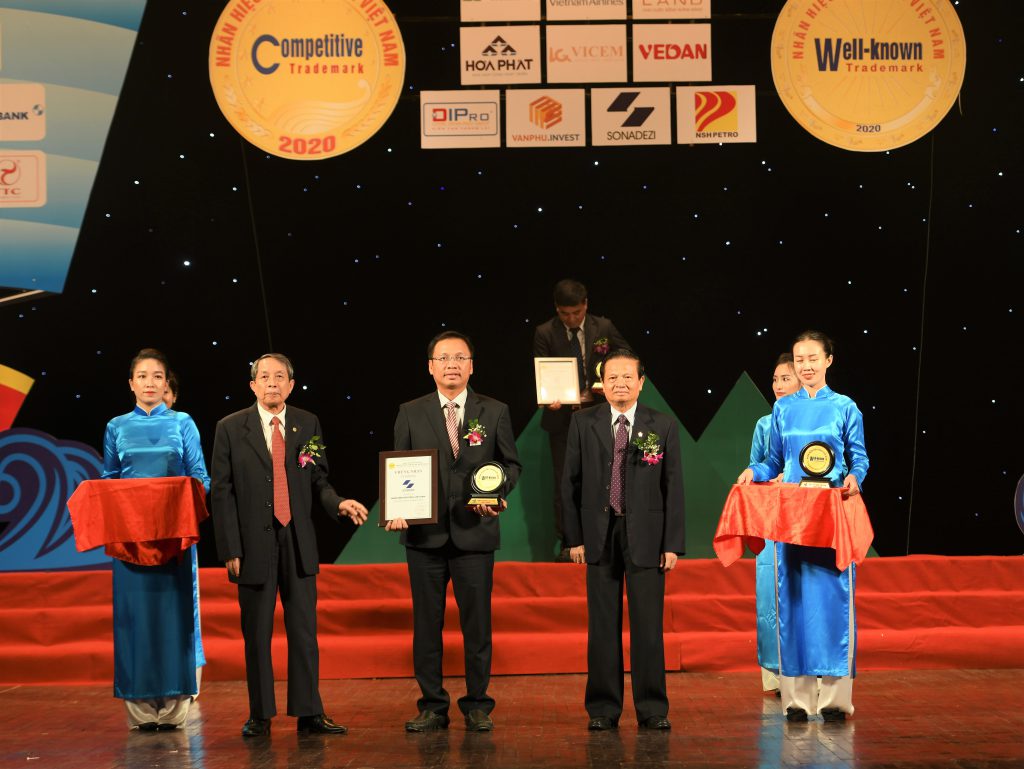 Sonadezi received the certificate for being named in the top 50 Vietnamese brands 2020
This is the second consecutive year Sonadezi has been named among the top 50 brands in the country. This is a meaningful achievement in Sonadezi's 30-year journey of development (1990 – 2020).
A famous brand in industrial park development
After 30 years of development, Sonadezi has grown into a strong corporation with 17 subsidiaries, having total assets worth more than VND 18,800 billion and owning a huge intangible asset which is Sonadezi brand value. As a leading player involved in the development of industrial parks (IPs) in Dong Nai while expanding its investment in many other provinces and cities, Sonadezi is the developer of several famous industrial parks that attract high-quality investment flows.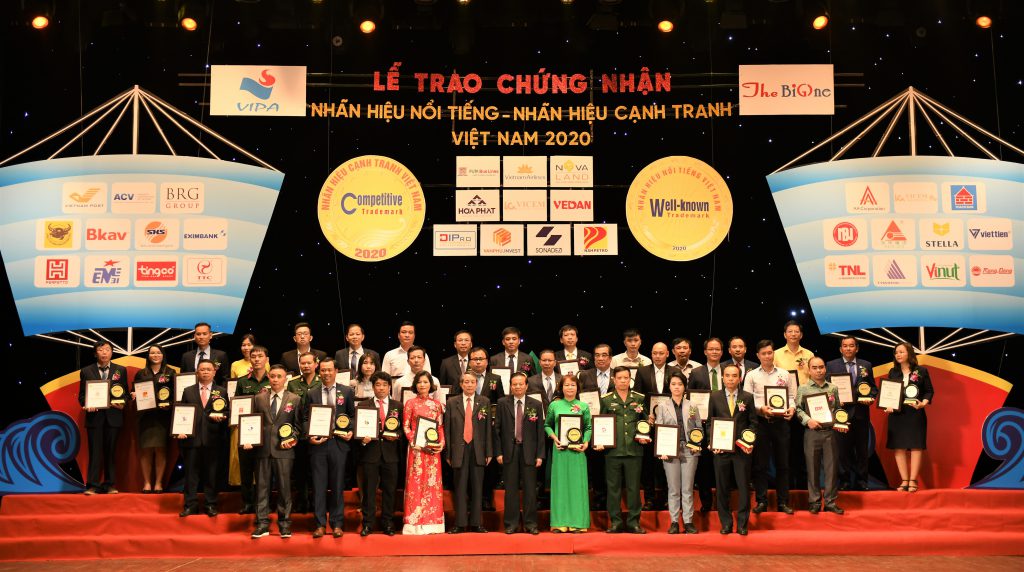 Sonadezi and other recipients of the certificate of Vietnamese Famous Trademarks – Competitive Brands 2020
Starting with Bien Hoa 1 Industrial Park, Sonadezi and its subsidiaries have now developed 11 industrial parks in Dong Nai, Ba Ria – Vung Tau and Binh Thuan. With a total area of 4,578 ha, Sonadezi's industrial parks have accommodated 803 projects (including 583 FDI projects and 220 DDI projects) with a total registered capital of more than USD 10 billion and VND 16,546 billion respectively.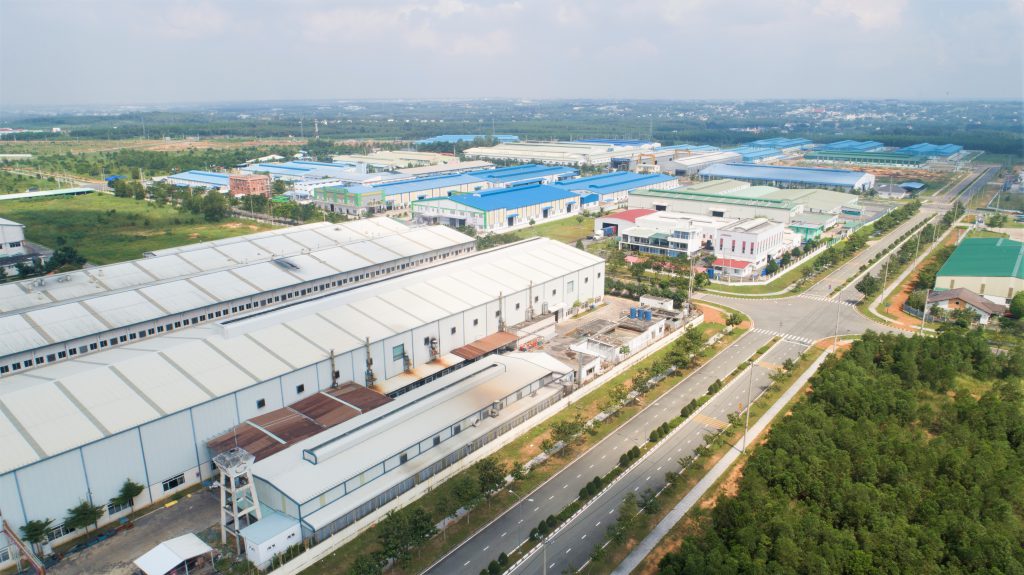 Giang Dien Urban Industrial Park
Sonadezi's 9 industrial parks in Dong Nai alone have attracted about 35% of FDI projects and 30% of DDI projects in the province, and about 30% of the total FDI capital invested in Dong Nai's industrial parks. These include high-tech projects developed by Fujitsu, Bosch, Sanyo, Shell, Atus, Hans Vina, 3M, Samsung, Sony, Meggitt, Kenda, Olympus … with a total investment of about USD 1.5 billion. Such investments are turning Dong Nai into a supplier of high-tech products such as aircraft components, auto components, electronic components, robots and spare parts of modern machinery used globally.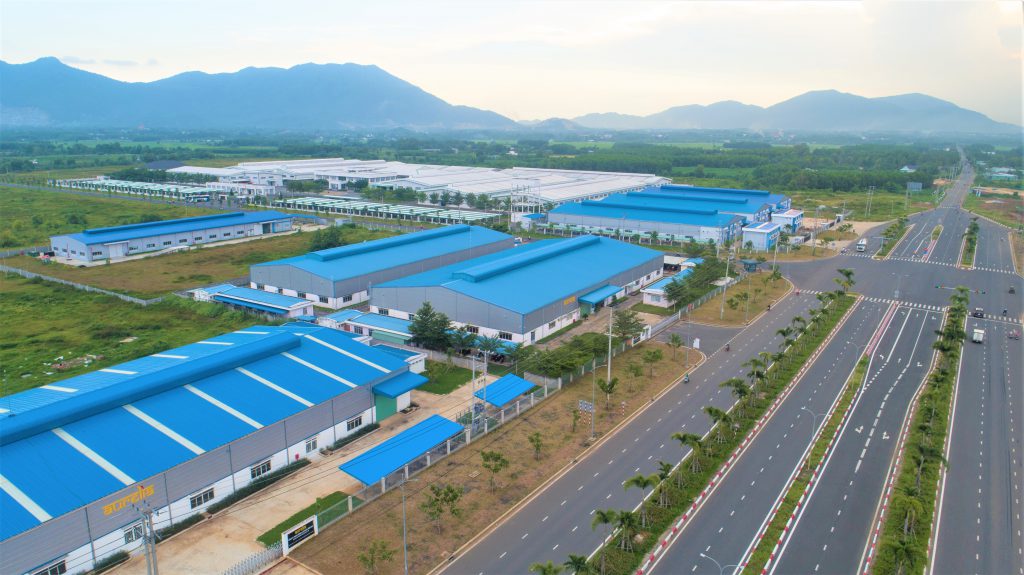 A corner of Chau Duc Urban Industrial Park & Golf Course
Especially, Sonadezi successfully developed 3 industrial parks, namely Long Thanh Urban Industrial Park (488 ha), Chau Duc Urban Industrial Park & Golf Course (2,287 ha), Giang Dien Urban Industrial Park (529 ha). This is a combined project model, including residential products and amenities around the Industrial Park as the core product to both provide production space and meet accommodation needs of managers, experts and employees under the same project. This Sonadezi's strategy has received strong support and praise from investors.
Effective investment in different fields
In addition to its achievements in industrial park development, Sonadezi and its subsidiaries have earned success in other areas such as civil real estate, construction and construction materials, support services and water supply. Sonadezi is currently a key player in the province in the development of industrial parks, residential areas, urban areas, waste treatment facilities, ports, clean water supply systems, etc.
Its industrial and civil property developers have invested in 11 industrial parks and many large-scale residential and urban projects such as: An Binh Residential Area, Thong Nhat Ward Residential Area, Loc An Residential Area, Long Thanh New Market, Tam An 1 Residential Area, Buu Long Ward Residential Area, Trang Bom Residential Area, Giang Dien Serviced Residential Area, Chau Duc Urban Industrial Park & Golf Course, etc.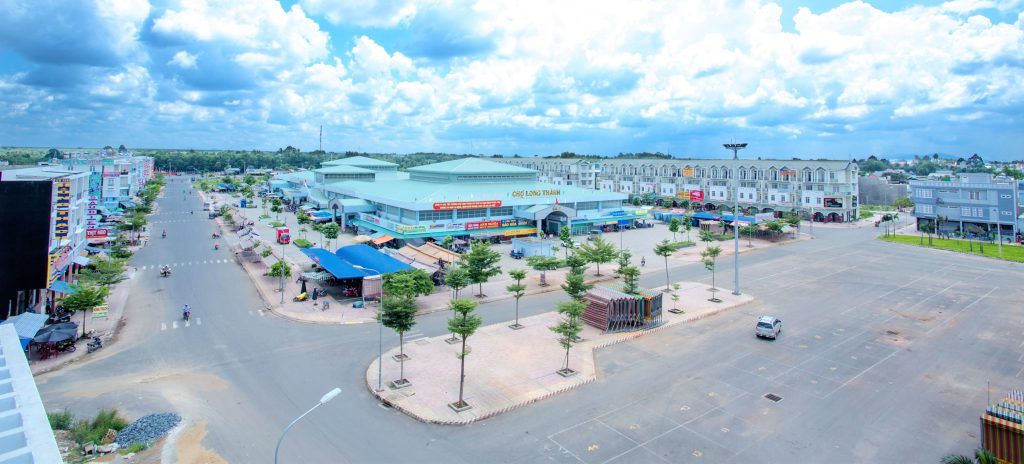 Long Thanh New Market
In the area of construction and trading of building materials, Sonadezi and its subsidiaries have engaged in developing key projects such as: BOT project for Provincial Road 768, Hoa An Bridge, Nguyen Van Troi apartment complex, An Binh residential area, mining and trading of construction materials sourced from Thien Tan, Xuan Hoa and Tan Cang 5 quarries. Besides, its subsidiaries have succeeded in research and development of commercial concrete, tunnel brick or paint products, which are highly welcomed by the market and used in large projects.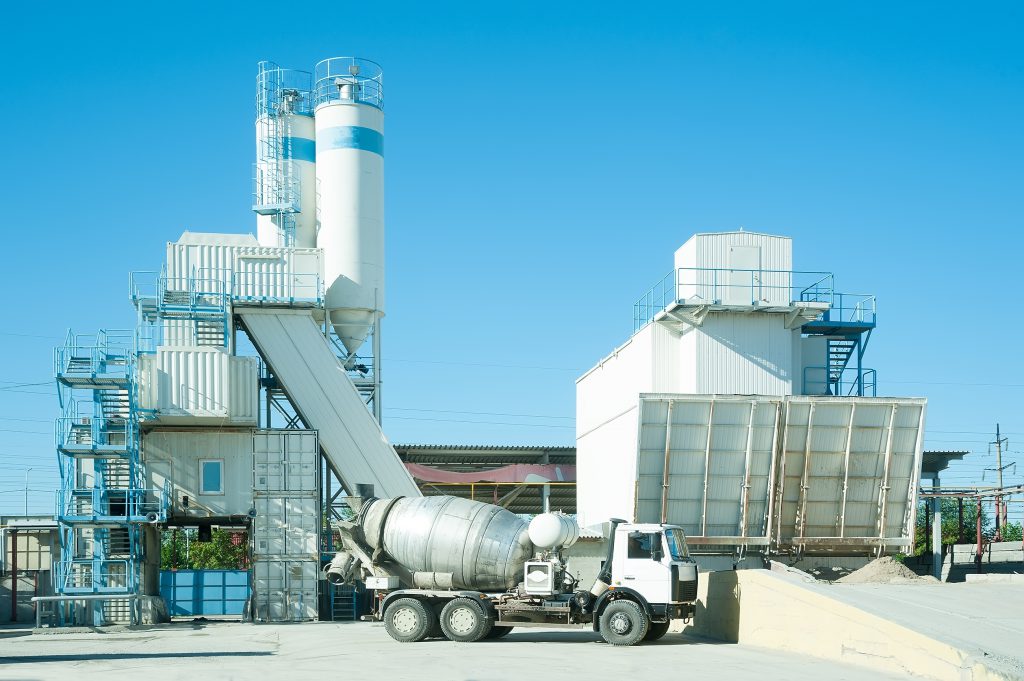 Production of commercial concrete
Sonadezi's support service team is also constantly growing with an effort to improve service quality and meet the increasing needs of customers, especially customers in industrial parks. Its wastewater/waste treatment, training, offices for lease and logistics services, etc. are better organized and significantly growing. Prominent projects in this area include: Quang Trung Waste Treatment Plant, domestic and industrial solid waste treatment complex, Go Dau and Long Binh Tan port system, Sonadezi Building, Sonadezi Long Binh Tower, among others.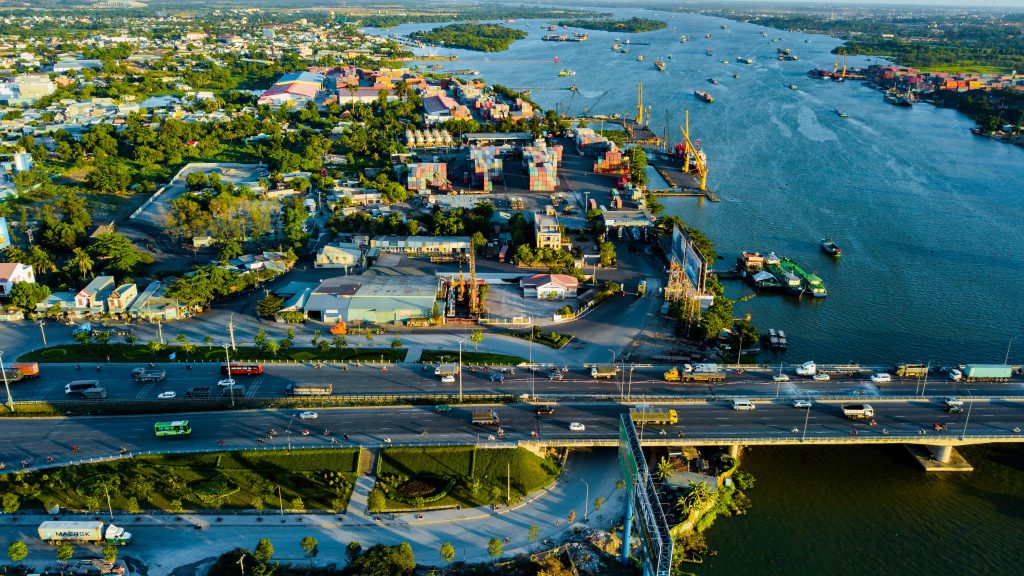 Dong Nai Port
Its water supply companies, including Dong Nai Water Supply Joint Stock Company (Dowaco), have played their important role in local socio-economic development. With a sound investment strategy, Dowaco has developed a wide coverage network with a total capacity of more than 450,000 m3/day to fully meet water demand of households and production facilities in Bien Hoa City, Long Khanh City and others districts and towns in the province. It also provides clean water to 32 industrial parks in Dong Nai.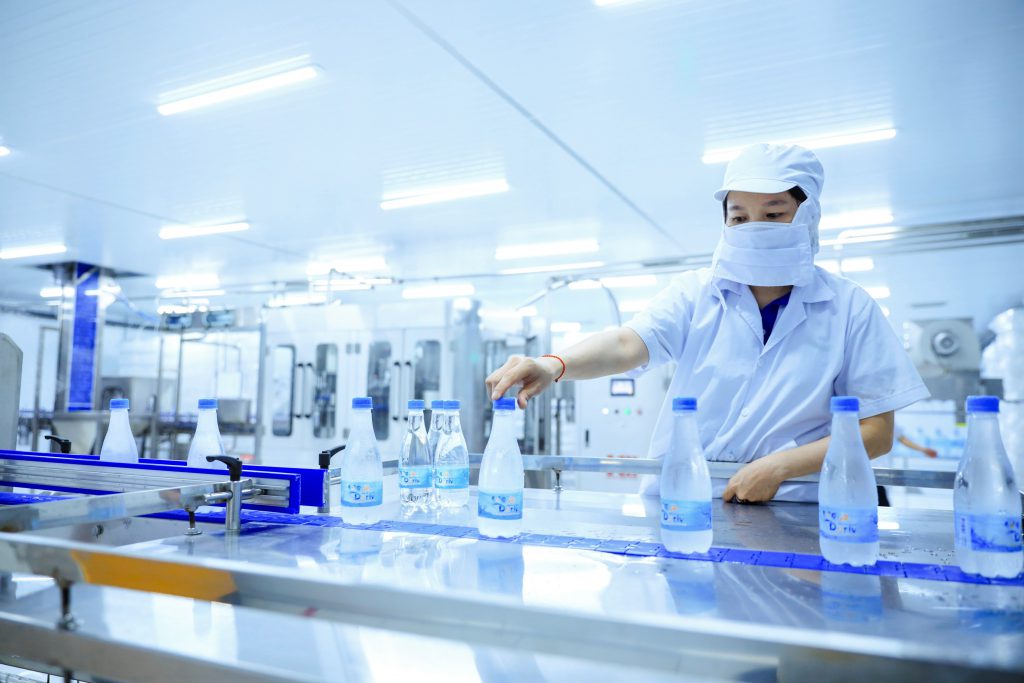 Doriv 350ml bottle production line
With 8 basically completed water supply projects, Dowaco ranks 3rd in water supply capacity and 4th in revenue from water supply nationwide. In 2020, in order to diversify its products, Dowaco launched a new purified drinking water product named Doriv that has gained acceptance from customers.
With a total investment of about VND 29,000 billion and nearly USD 35 million, more than 60 projects developed by Sonadezi and its subsidiaries have driven socio-economic development in many localities such as Dong Nai, Ba Ria – Vung Tau, Can Tho, Da Lat and Binh Thuan.
---
With a strong market position, reputation and internal resources, Sonadezi aims to become a market leader in industrial and civil real estate and supporting services in Vietnam. Efforts towards this end will generate more value to its customers, shareholders and employees and contribute to national and local development.