On April 22, Sonadezi continued to be honored announced by Vietnam Report as one of the Top 10 prestigious industrial real estate companies.
Within the framework of the announcement ceremony of the Top 500 Fastest Growing Enterprises in Vietnam in 2022 Rankings organized by Vietnam Report, the Top 10 prestigious industrial real estate companies in 2022 were honored as a recognition of their efforts to develop, maintain the reputation and promote social responsibility despite the impacts of Covid.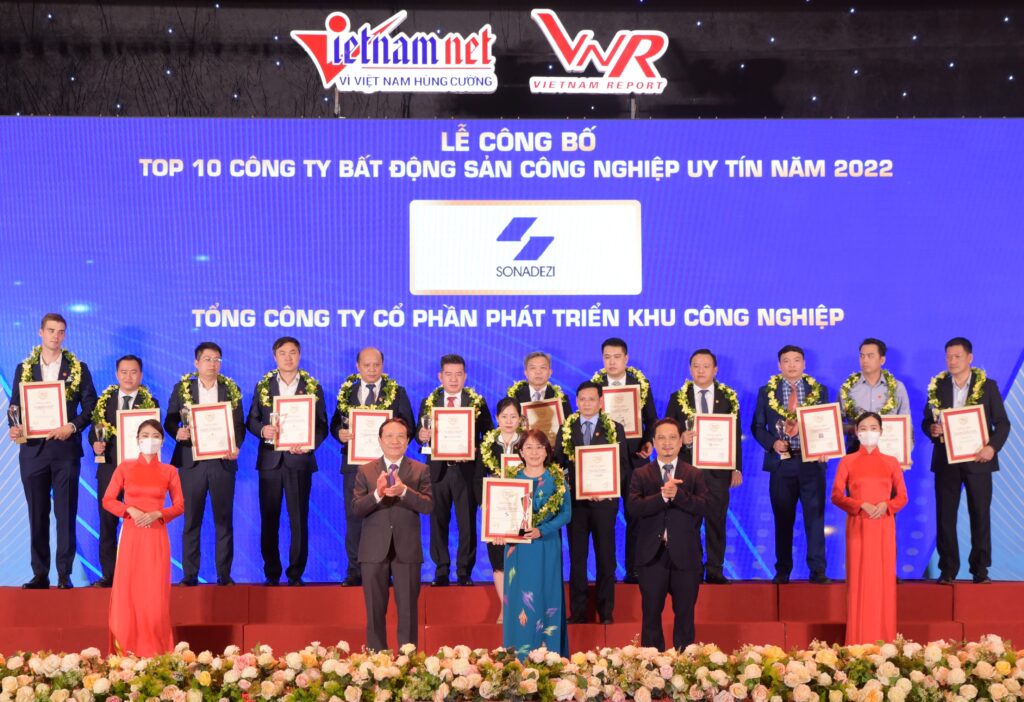 Sonadezi leader receives Trophy and Certificate of Top 10 prestigious industrial real estate companies in 2022
As a brand recognized and trusted by customers and society in the past 32 years with outstanding achievements in industrial park development and investment attraction, Sonadezi has for 2 consecutive years been honored as a Top 10 prestigious industrial real estate company (in 2021, 2022).
In the local industrial park infrastructure sector, Sonadezi is considered a successful brand in developing an industrial park ecosystem with 11 industrial parks in the Southeastern and South-Central regions. Currently, in addition to the core business of industrial and civil properties, Sonadezi is upscaling and increasing the operational efficiency of 3 other business areas including water supply, construction and building materials, and supporting services (including port services, human resources training, environmental protection services) in order to create multi-value integrated destinations that support industrial park-based investors to operate smoothly and develop sustainably.
On the history of investment and development of industrial parks since 1990, the management of Sonadezi said: " In the first years, Sonadezi almost only invested in industrial park infrastructure with the biggest goal of attracting FDI and creating jobs. Later on, with the lessons learnt from business, based on actual demands and in response to investors' recommendations, Sonadezi gradually built and developed an industrial park ecosystem, focusing on attracting investment projects that create high economic value, are less labor intensive and have limited environmental impacts .
One of the factors that enable Sonadezito effectively exploit over 4,600 hectares of industrial land is its efforts to create a synchronous connection from industry to service and trading in order to link industrial park infrastructure with social infrastructure. In parallel with the investment and development of industrial parks, Sonadezi has developed many urban areas and residential areas with a total area of more than 922 hectares along with a series of utility services for investors such as offices for rent, golf courses, industrial park service center, gas station, etc. The Company has also reserved land fund for such services as warehouse, showroom, bank, and customs. At the same time, Sonadezi has invested in worker dormitories, kindergartens, sports fields, parks, and so on to serve workers in industrial parks.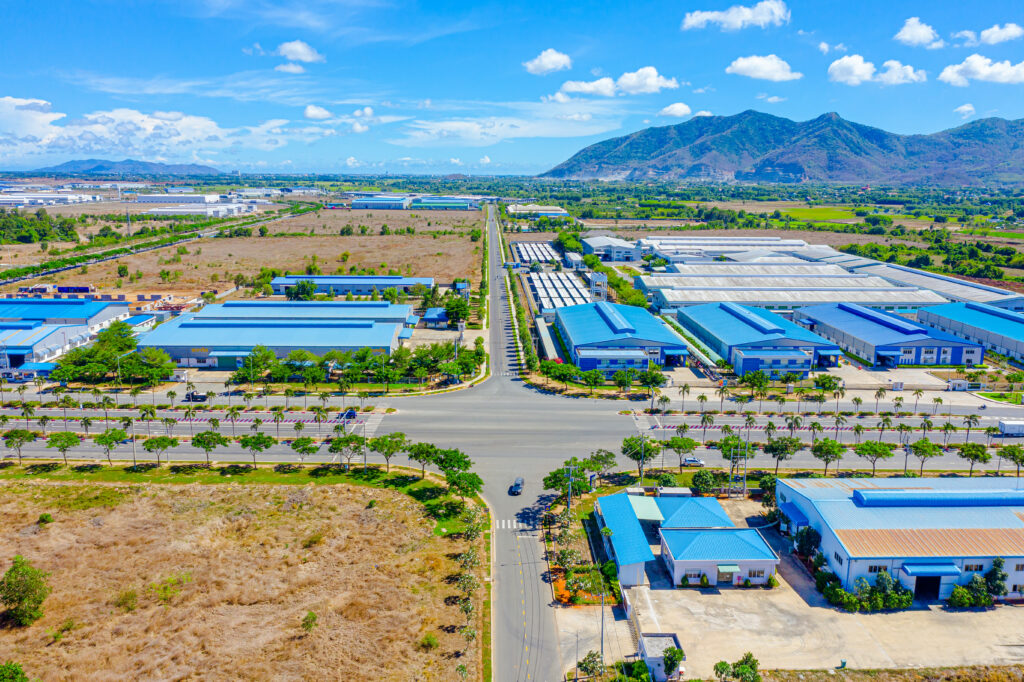 Covering an area of 2,287 hectares, Chau Duc Urban Industrial Park & Golf Course is one of the country's leading mega industrial complex investment projects.
The year 2002 marked an important milestone in the sustainable development strategy of Sonadezi with the Company pioneering in the industrial park-urban area model with the first project being the 488-hectare Long Thanh Industrial Park. This was followed by Sonadezi's investment and development of this model in Dong Nai, Ba Ria – Vung Tau, and Binh Thuan with such projects as: Chau Duc Urban Industrial Park and Golf Course (2,287 ha), Giang Dien Urban Industrial Park (529 ha), Tan Duc Industrial Park (300 ha). Sonadezi's industrial park-urban are model has created a far-reaching effect and is replicated in many localities across the country such as Binh Duong, Hai Phong, Bac Giang, Bac Ninh, Hai Duong, Nghe An, etc.
Besides, Sonadezi's industrial park infrastructure development strategy is aimed at meeting customers' green and sustainable production conditions, attaching importance to safety and environmental protection. Especially, in the context of climate change, environmental pollution, shrinking resources and increasing green consumption trend, the development of green infrastructure in industrial parks is regarded by Sonadezi as an important goal. Therefore, Sonadezi system has spent over VND 1,700 billion developing and operating centralized wastewater treatment plants in industrial parks and large-scale waste treatment zones that use modern technology, integrate smart technology in operation and aim to provide green energy, on-site renewable energy for factories.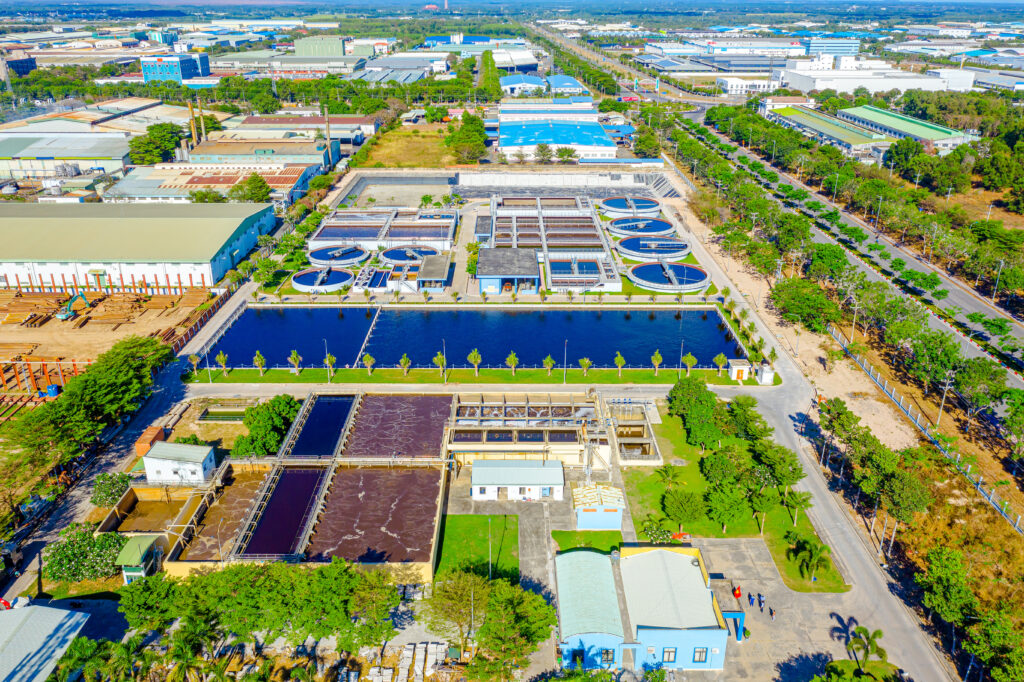 Centralized wastewater treatment plant in Nhon Trach 2 Industrial Park
Nearly USD 11 billion of investment capital from 22 countries and territories with more than 600 FDI enterprises operating effectively in 11 industrial parks, creating jobs for more than 100,000 workers, contributing to local industrial and urban development in localities. These are the results of Sonadezi's pioneering mindset, innovation and efforts for responsible investment and sustainable development.
Up to now, 7 out of 11 Sonadezi's IPs have been basically filled. The remaining 04 industrial parks including Chau Duc, Tan Duc, Giang Dien, and Thanh Phu, which are to be filled soon, has a total area of industrial land and ready-for-rent factories of 1,782.43 ha.
The Sonadezi management said that in the time to come, Sonadezi will continue to invest and develop a model of green industrial parks linked with urban areas and services, while upgrading the existing industrial park system and increasing the value offered to customers to comprehensively develop the industrial park ecosystem, contributing to building the image of Dong Nai, Ba Ria – Vung Tau, Binh Thuan as desirable destinations for investment and residence.