On September 18, 2023, Sonadezi Corporation officially operated the the Tableau BI – the Smart management reporting throughout the Corporation. This milestone indicates the successful completion of the project aimed at data digitization and centralized database establishment.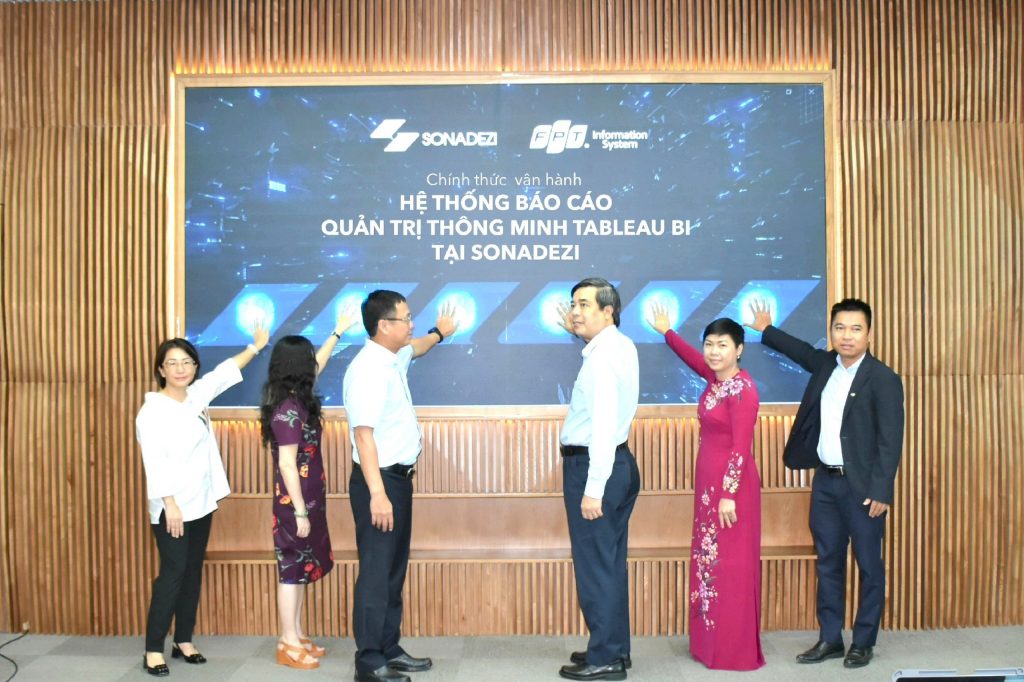 Sonadezi Corporation officially operates the Tableau BI – the Smart management reporting system
Sonadezi launched the Tableau BI – the Smart management reporting project in November 2021. This project has been completed and put into implementation. The objective of this project is to adopt digital applications in data collection, updating, and aggregation, enabling Sonadezi to build a centralized data system. Additionally, the project seeks to employ intelligent data analysis tools to efficiently manage and leverage the data source of the Sonadezi system.
During the ceremony, Mr. Tran Thanh Hai, CEO at Sonadezi, emphasized that, with 16 subsidiary companies, cross-sector operations, a workforce of over 3,800 employees, and numerous activities involved in administering, executing, and coordinating the daily business, Sonadezi Corporation had to deal with an increasingly growing amount of data. In terms of the number of reports that needed to be collected and aggregated from subsidiary companies via the representatives of parent company capital alone, there were as many as 40 input forms and 60 output reports.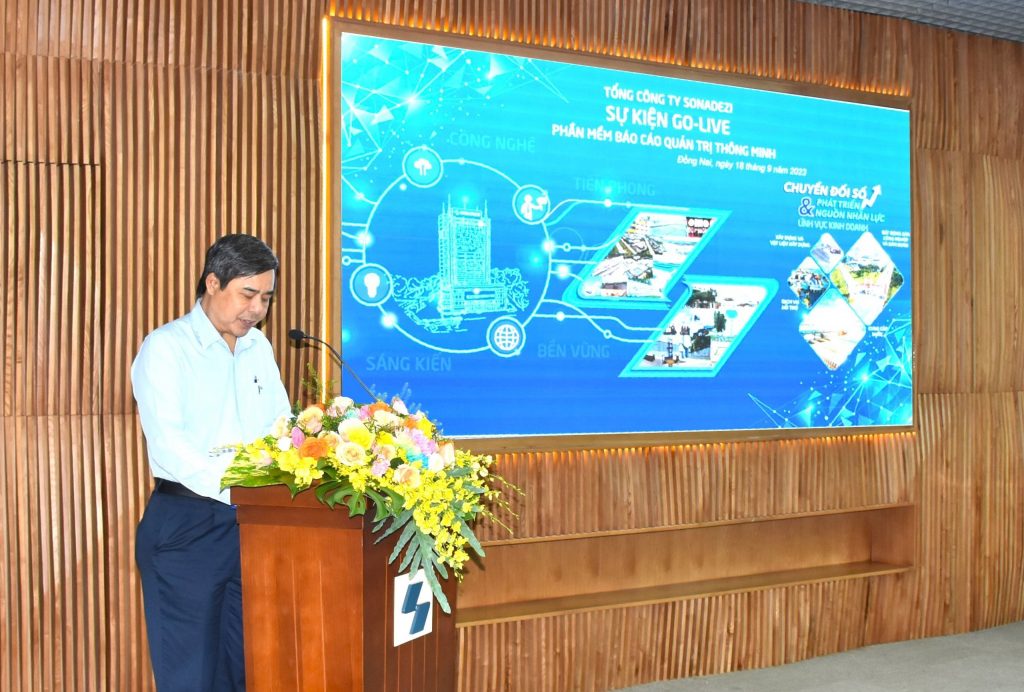 Mr. Tran Thanh Hai, CEO at Sonadezi speaks on stage during the ceremony
Due to their failure to maximize data value or meet standards for security, accuracy, consistency, and timeliness, the traditional solutions for data collection, updating, storage, sharing, analysis, and utilization are no longer sufficient. Therefore, Sonadezi decided to launch the Tableau BI – the Smart management reporting project to optimize data collection, aggregation, and analysis, as well as standardize the reporting system.
The Tableau BI – the Smart management reporting system employed by Sonadezi is an open model that offers potential for future integration with big data and allows Sonadezi to efficiently leverage the centralized data sources of the Corporation as well as those of its subsidiary companies.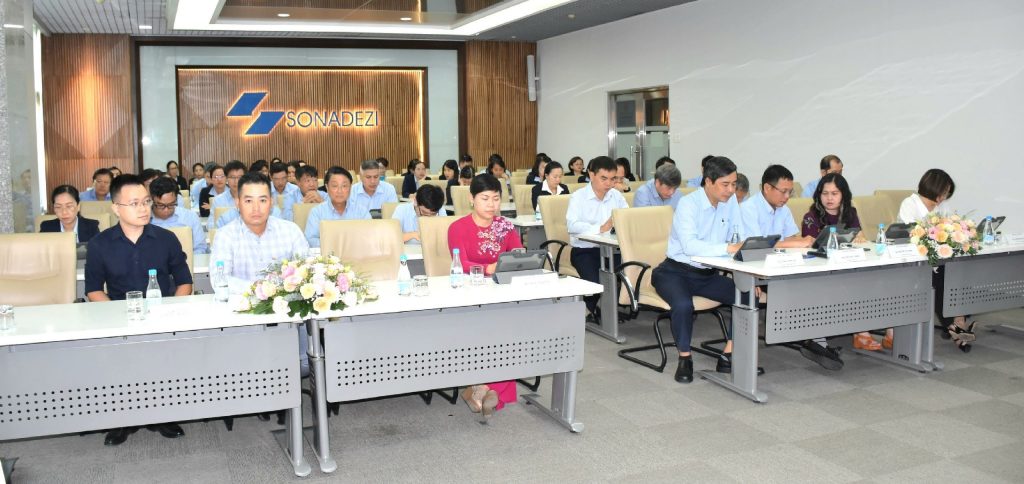 Leadership of Sonadezi and subsidiary companies experience the Tableau BI – the Smart management reporting software
Ms. Lai Thi Dai Trang, Head of Digital Transformation and Quality Management at Sonadezi Corporation, shared more details about the project team's responsibilities: built a data input and reporting portal; established a direct data entry system for business groups in accordance with management policies of Sonadezi Corporation; and developed a data warehouse and an intelligent reporting system with 47 dashboards and 64 output forms. With support from the FPT Information System (FPT IS), Sonadezi's software provider, the project officially goes live.
Mr. Dang Truong Thach, Deputy CEO at FPT IS, revealed that the Tableau BI – the Smart management reporting project was quite a challenge, as Sonadezi Corporation had many subsidiary companies, cross-sector operations, and a large volume of data. However, Sonadezi only needed over a year to complete the project and succeeded in introducing a bespoke system that matched their reporting requirements.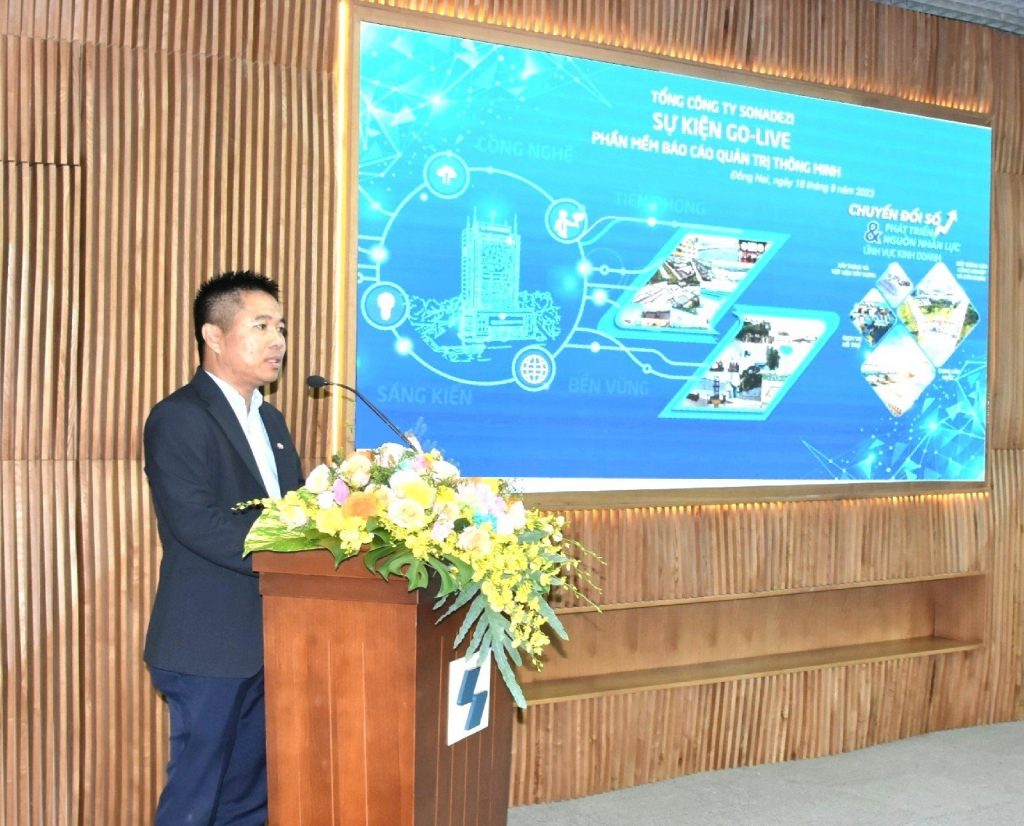 Dang Truong Thach – Deputy CEO of FPT IS speaks on stage
"Through the collaboration of Sonadezi and FPT IS, the project team successfully launched over 100 intelligent management reports and cloud infrastructure for the Corporation and its 16 subsidiary companies, as well as the daughter companies associated with those subsidiaries, beginning in June 2023. It means, Sonadezi now has a leading-edge, accurate, and industry-standard brain for management in the domains of industrial and residential real estate, construction, building materials, supporting services, and clean water supply," Mr. Thach said.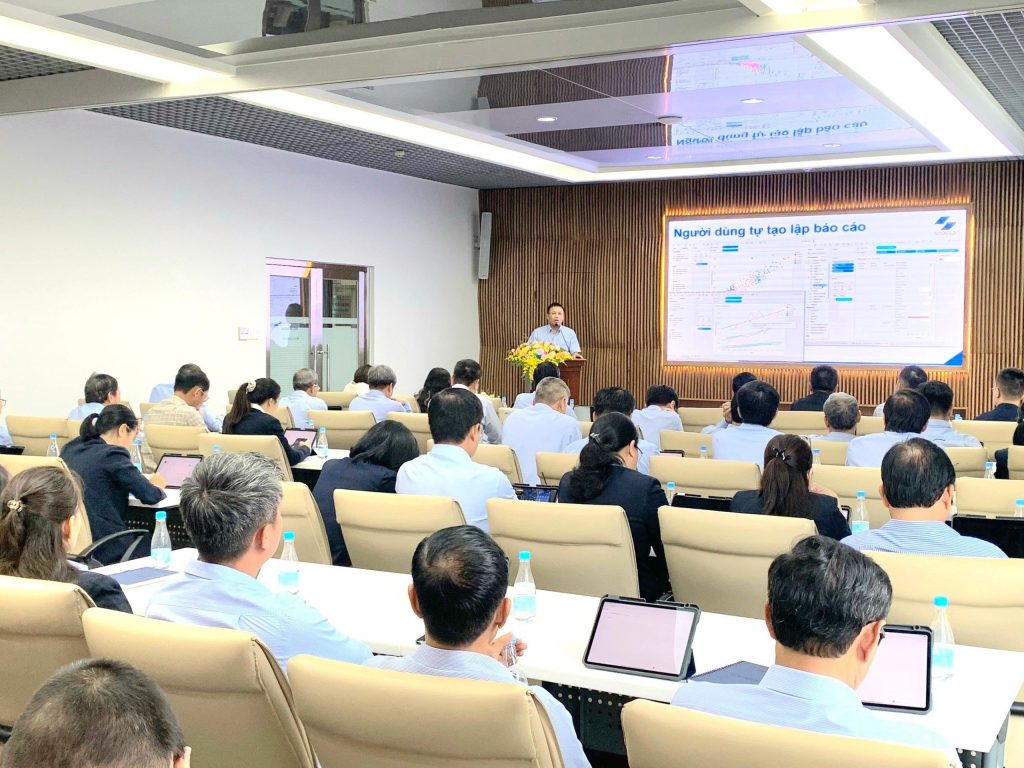 Mr. Dinh Ngo Thuan, Deputy CEO at Sonadezi, introduces the features and requirements for the use of Tableau BI – Smart management reporting software
During the ceremony, the leadership of Sonadezi Corporation underscored the importance of information and data as valuable assets to a company. Experts also showed that, despite being intangible and not reflected in financial statements, data could account for 25% of a business's overall worth. It is because, in the digital age, data has become a production material and a key business resource, and digital productivity has been considered one of the catalysts for growth and competitiveness for both employees and companies. Data digitization, therefore, is more than a choice. It is a crucial undertaking that must be implemented in a practical, decisive, and efficient manner.
According to Mr. Tran Thanh Hai, Sonadezi will continue to prioritize digital transformation in the foreseeable future and step by step establish a digital foundation for Sonadezi and its subsidiary companies, with the goal of fostering innovation, adaptation, operational efficiency, and substantial growth in the next chapter.
In addition to digital transformation projects, Sonadezi intends to promote technology-focused training programs to enhance the digital capabilities of its employees and subsidiary companies.
At the same time, Sonadezi will develop data and manage data risks to ensure the safety and efficiency of data use, facilitate data-driven decision-making process, optimize costs and resources as well as comply with legal requirements.
After the Tableau BI – the Smart management reporting project, Sonadezi and its subsidiary companies will continue to work hard to leverage their data warehouses and integrate digital solutions into their workflow operations. The goal is to create a digital work environment that encourages cooperation and information exchange.
For example, the Dong Nai Port Joint Stock Company is deploying an electronic port (ePort) software to issue electronic delivery orders, electronic customs clearance, electronic invoicing, and electronic payment, allowing customers to make transactions without direct contact and in-person visits.
Dong Nai Water Joint Stock Company (DNW), which operates water supply network across Dong Nai province and caters to over 250,000 customers, has employed numerous software to support its operations, including a customer relationship management (CRM) application, a geographic information system (GIS) to update the water supply network, a Supervisory Control and Data Acquisition (SCADA) to manage and operate factories, a variable frequency drive system to regulate water pressure and operate pumps, as well as banking applications to collect bills. Additionally, DNW started signing electronic contracts with its customers, surveying the needs of new meter installations, and installing electronic meters for its prominent clients.