On January 11, Sonadezi Corporation launched the Smart Management Reporting System, marking the first milestone in its system-wide digital transformation journey.
As an effective tool for data collection, synthesis and analysis and report standardization at Sonadezi Corporation, Smart Management Reporting System leverages and visualizes existing data in support of easier data analysis and more informed decision making by the Corporation's Management, subsidiaries and firms affiliated to its subsidiaries.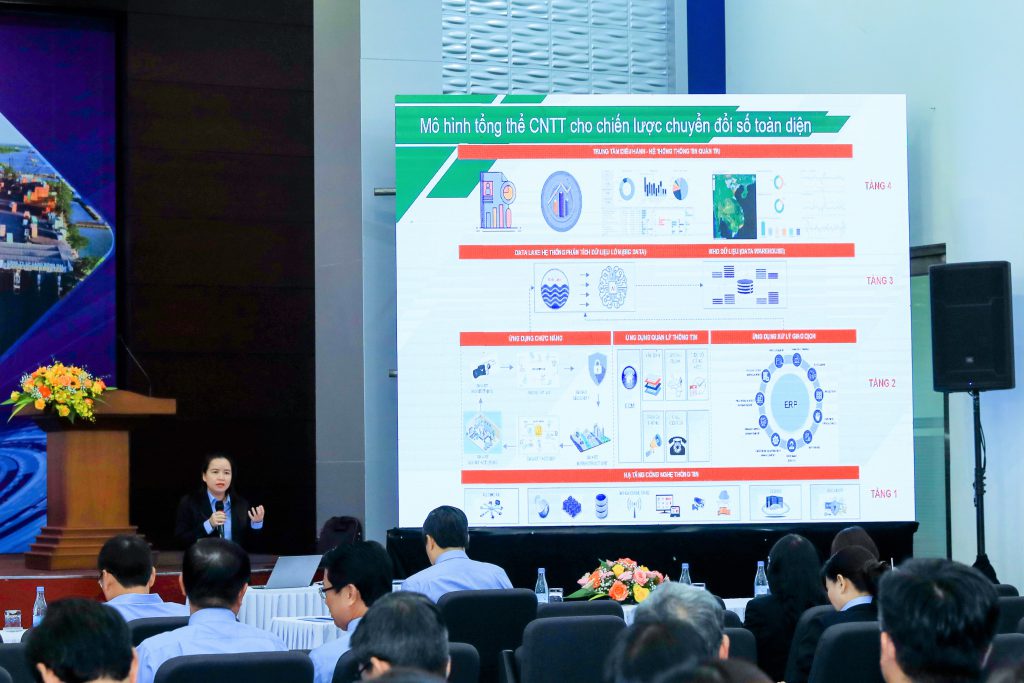 Sonadezi's official launch of the Smart Management Reporting System
A plus of this system is that it can be expanded and integrated with big data sources in the future in order to effectively exploit centralized data sources of the Corporation and its subsidiaries.
Addressing on the objectives and applicability of Smart Management Reporting System, Ms. Lai Thi Dai Trang – Head of Digital Transformation and Quality Management Division, Sonadezi Corporation shared that Sonadezi's historical and daily operational data are growing significantly due to its large-scale, multi-sectoral operations and a large pool of nearly 4,000 employees. Thus, traditional practices in data compilation, updating, storage, sharing, analysis and mining are now irrelevant, inconvenient, time-consuming and unable to make the best out of available data. Besides, they do not always provide data security, accuracy, consistency and timeliness.
"To address this situation and in line with digital transformation trends in all industries, the Management of Sonadezi Corporation aimed to promote data digitization. The goal is to adopt a new and appropriate method for data collection, updating and synthesis using digital applications to build a centralized database and employ intelligent data analysis tools for effective management and exploitation of the Corporation's data", shared Ms. Trang.
On January 11, 2023, the Smart Management Reporting System was basically completed and launched for system-wide usage at Sonadezi.
At the launching ceremony for the Smart Management Reporting System, Mr. Tran Thanh Hai – Chief Executive Officer of Sonadezi Corporation shared that digital transformation is one of Sonadezi's key tasks for 2023- year of digital data, aimed at developing and leveraging data systems to generate new values. In its phase 1, Sonadezi aims at effectively running and exploiting the Smart Management Reporting System. This is an important platform to form the Corporation's data ecosystem in the near future, thereby improving its data optimization, governance and management, customer service quality and competitiveness in a new era.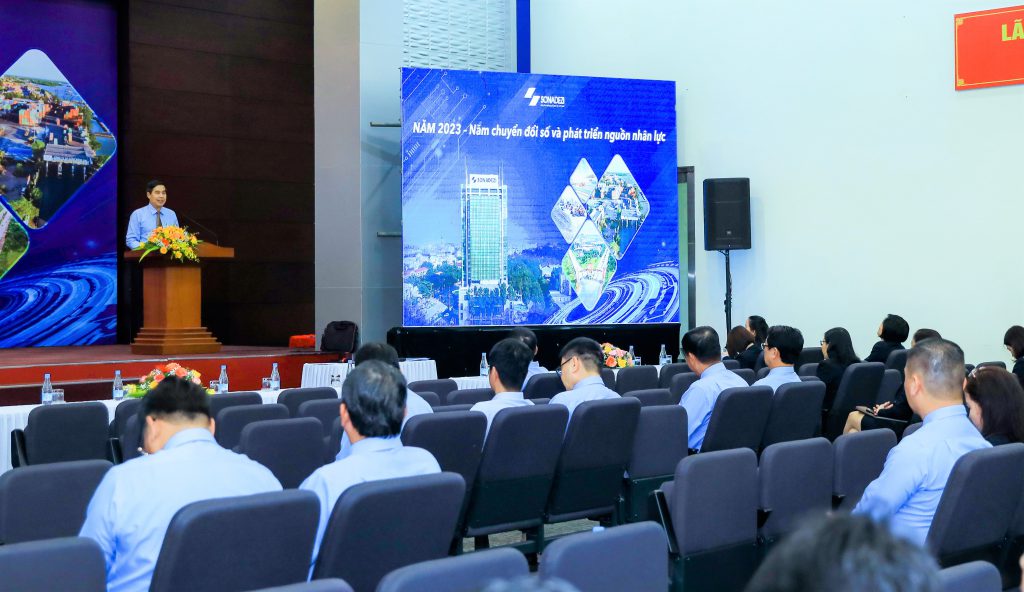 Mr. Tran Thanh Hai – Sonadezi Corporation's Chief Executive Officer shared its vision for digital transformation
Mr. Tran Thanh Hai also stressed that: "In the digitization process, regardless of digital applications to be employed, people remain the decisive factor for the success of digital transformation and the formation of a data culture. Therefore, from 2023 onwards, Sonadezi will focus on technology-related knowledge and skills training of its employees, seeing this as a standard HR requirement in the new period to adapt to a digital ecosystem that the Corporation is building and meet the job requirements in the context of stronger digital transformation in all industries.
In its development strategy, digital transformation is regarded as a tool to help transform the entire Corporation in line with new market trends while boosting its business performance, reducing costs, opening up new development space, creating new space for development and generating new resources and digital assets.
In addition to the Corporation's digitization scheme, each subsidiary is expected to explore and adopt digitization solutions that are needed in their areas of operations and can be integrated with the Corporation's digital platform.