The Sonadezi Corporation has exceeded its revenue target despite numerous challenges in 2022. Sonadezi expects to generate VND 5,944 billion in revenue and VND 1,083 billion in profit after tax in 2023.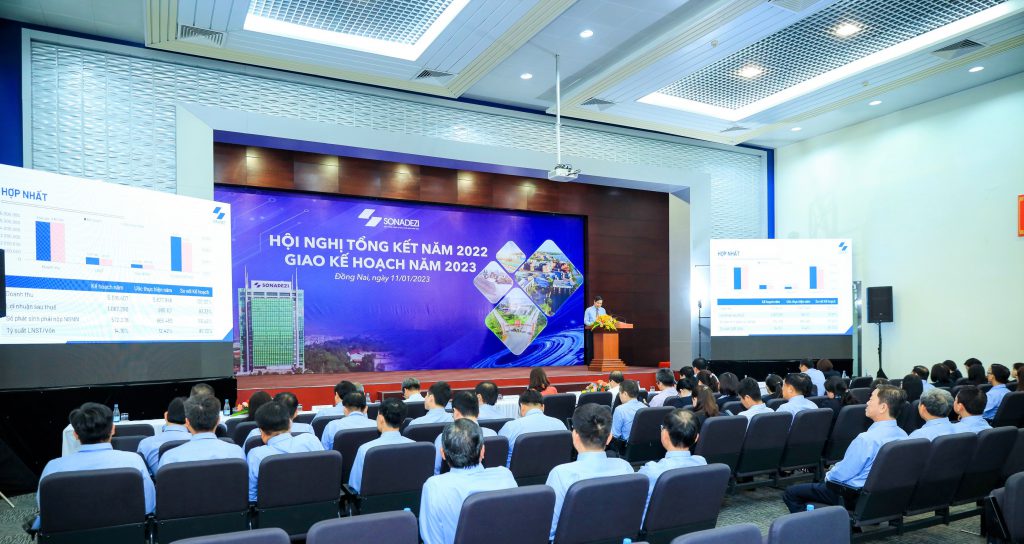 Sonadezi Corporation's 2022 annual review and 2023 business planning
At its workshop on 2022 annual review and 2023 business planning on January 11, as reported by Mr. Tran Thanh Hai, Chief Executive Officer of Sonadezi Corporation, Sonadezi's consolidated revenue was VND 5,628 billion in 2022 (2% higher than its annual target) while it incurred VND 666 billion of tax payables (16.46% higher than planned).
More specifically, the parent company – the Corporation generated nearly VND 681 billion in revenue and around VND 457 billion in profit after tax (or 102.33% of its target), and its return on equity was 11.85% (or 102.19% of its target).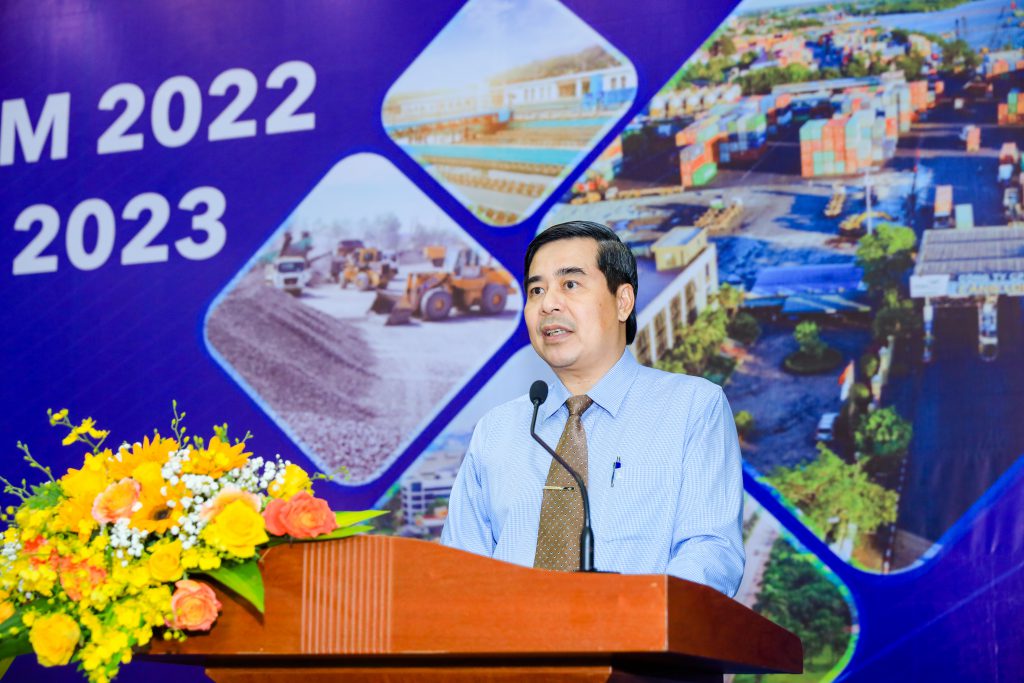 Mr. Tran Thanh Hai – Chief Executive Officer of Sonadezi Corporation reported business performance results in 2022
The Corporation's revenue in 2022 hit its all-time high. According to Sonadezi's leaders, its revenue and other indicators could be even higher if there had not been adverse market developments and Sonadezi's legal issues had been promptly resolved.
According to Ms. Do Thi Thu Hang – Chairwoman of Sonadezi's Board of Directors, by the end of 2021, Sonadezi developed a business plan based on positive prospects for economic recovery in 2022. However, market developments in 2022 deviated from all expectations and plans. On top of new challenges were issues that long existed in Sonadezi's operations and for which there was no radical solution. These were, among others, legal issues in investment and sales, barriers to procurement and auctioning, and countless difficulties in delivery of its business activities.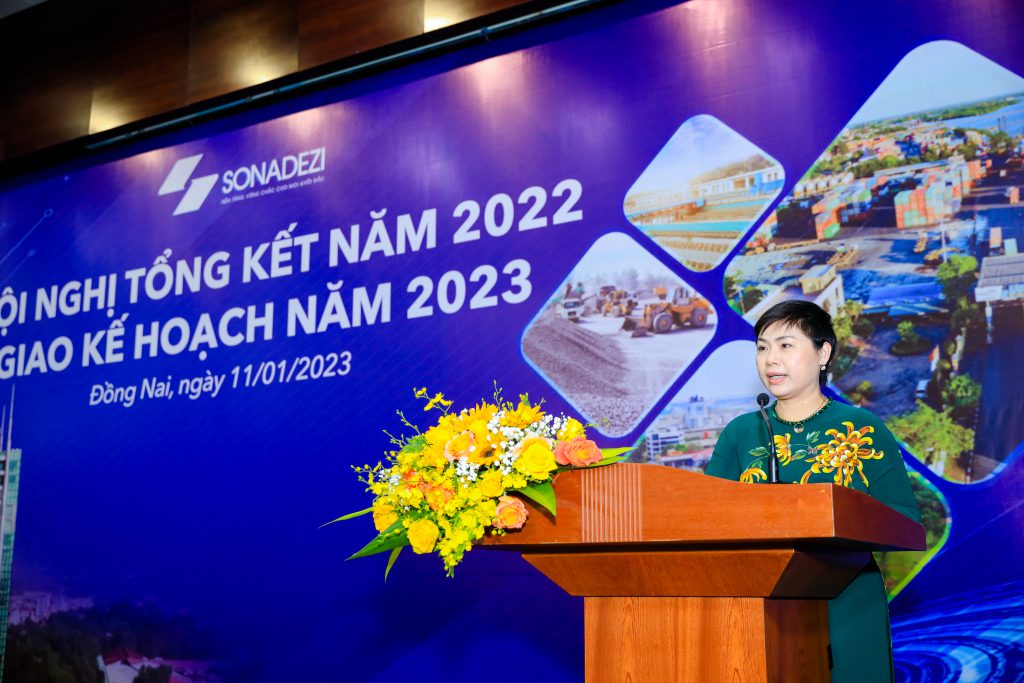 BOD Chairwoman Do Thi Thu Hang shared Sonadezi's challenges and ways forward
According to Ms. Hang: "These issues have long existed for years, challenging Sonadezi's implementation of ongoing projects and proposal of new investments, including failure to formulate or deploy projects despite funding availability, inability to offer existing products for sale or underdevelopment of facilities for lease to address customer needs".
Therefore, Sonadezi requested that the Dong Nai Provincial People's Committe as the owner further provide guidance, facilitation and favorable conditions while provincial departments be involved in addressing issues faced by Sonadezi. It would be particularly important to speed up work execution by government agencies to soon remove business obstacles within the mandates of the local government as favorable conditions for Sonadezi's flexible business operations while also sending proposed actions to the National Assembly, the Government and ministries to address institutional and legislative issues for a safer and more enabling business environment.
Addressing at the event, Vice Chairman of Dong Nai Provincial People's Committee Vo Tan Duc congratulated Sonadezi for its achievements in 2022. Understanding its reported issues, Mr. Vo Tan Duc shared that: "Dong Nai Provincial People's Committee and its departments always stand by to support businesses overcoming their obstacles in a way that Sonadezi Corporation and its subsidiaries can perform effectively and make practical contributions to local socio-economic development".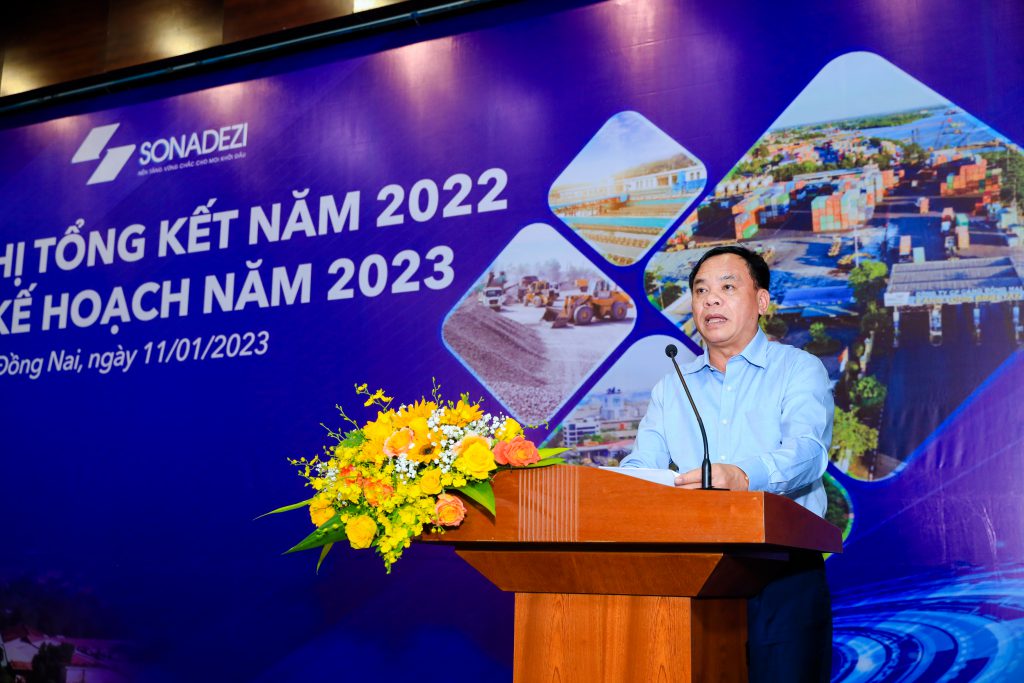 Mr. Vo Tan Duc – Vice Chairman of Dong Nai Provincial People's Committee delivered the keynote speech at the event
As also advised by Mr. Vo Tan Duc, Sonadezi Corporation, in 2023, should focus on its divestment according to the roadmap approved by the Prime Minister. In addition, it should leverage available resources and develop new projects that are closely linked with the local vision for socio-economic development, especially those to be developed as part of the airport urban area, logistics services, industrial parks and social housing projects.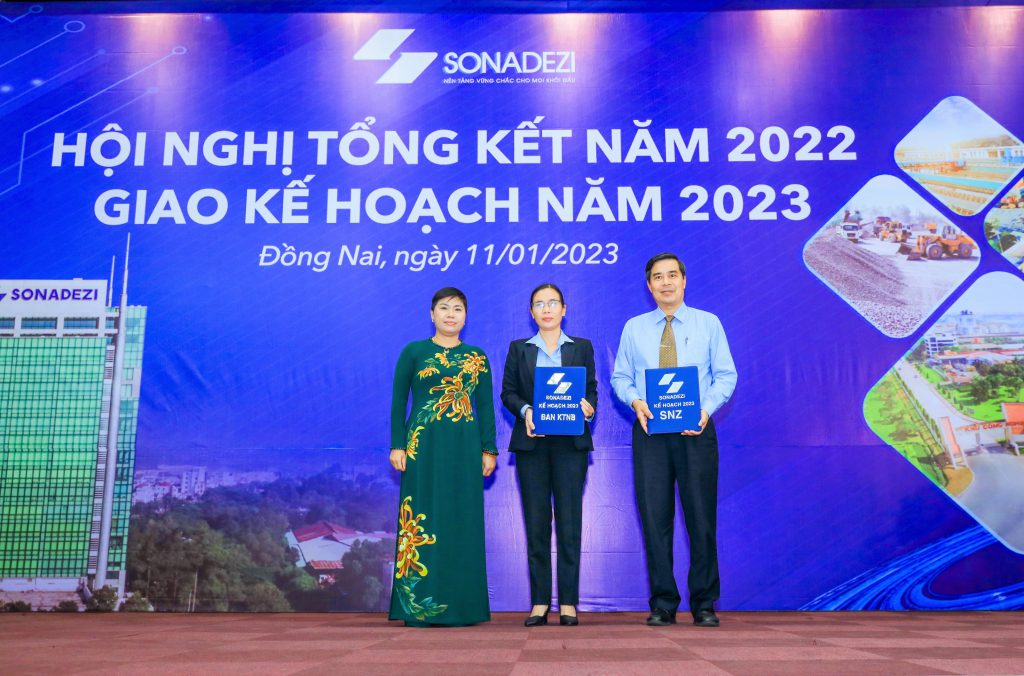 Ms. Do Thi Thu Hang entrusted the 2023 business plan to the Chief Executive Officer and Director of the Internal Audit Division of the Corporation
As for overall directions and key tasks for 2023 at Sonadezi Corporation, Ms. Do Thi Thu Hang made it clear that: "In 2023, we will face lingering difficulties from previous years plus new internal and external challenges, for which "flexible responses, risk management, safe business growth" form key parts in Sonadezi's governance.
There are 5 groups of tasks and solutions on capital preservation, project investment, system administration, legal affairs, digital transformation, human resource development, etc., in addition to corporate restructuring according to the owner's approval, as key areas of actions by Sonadezi in its 2023 annual plan.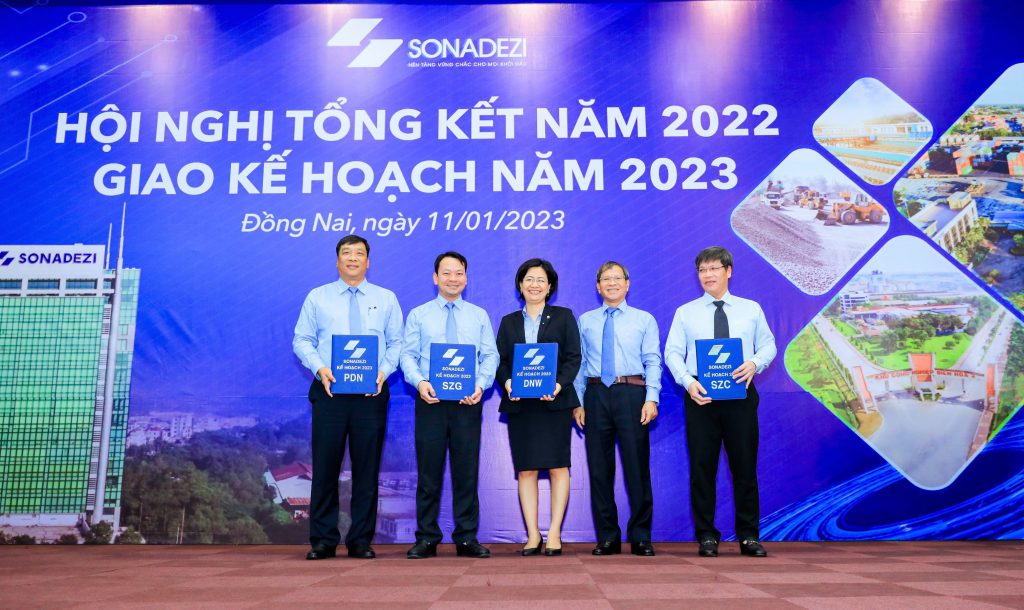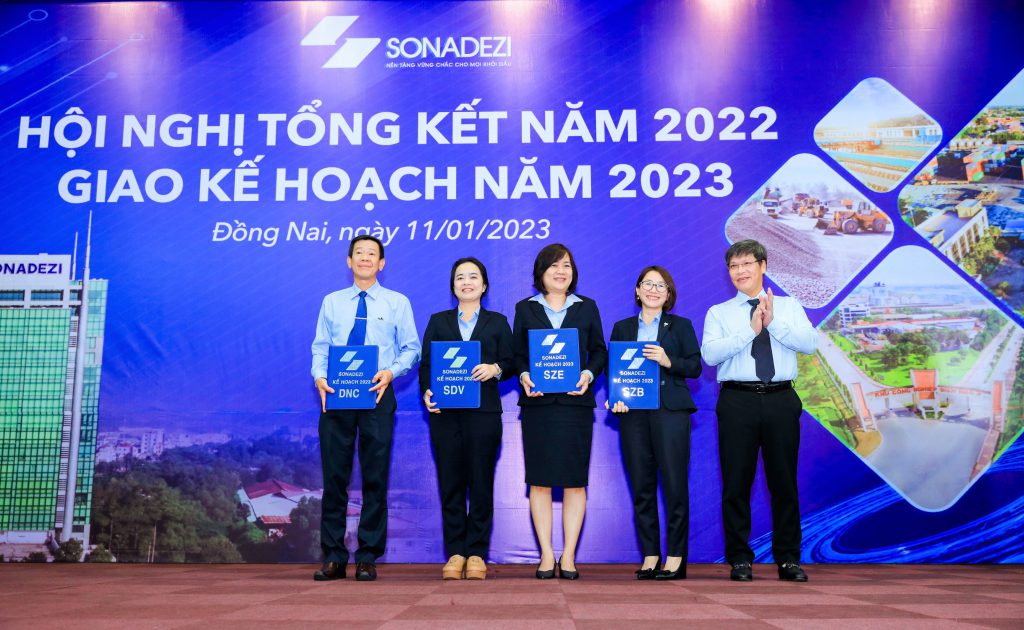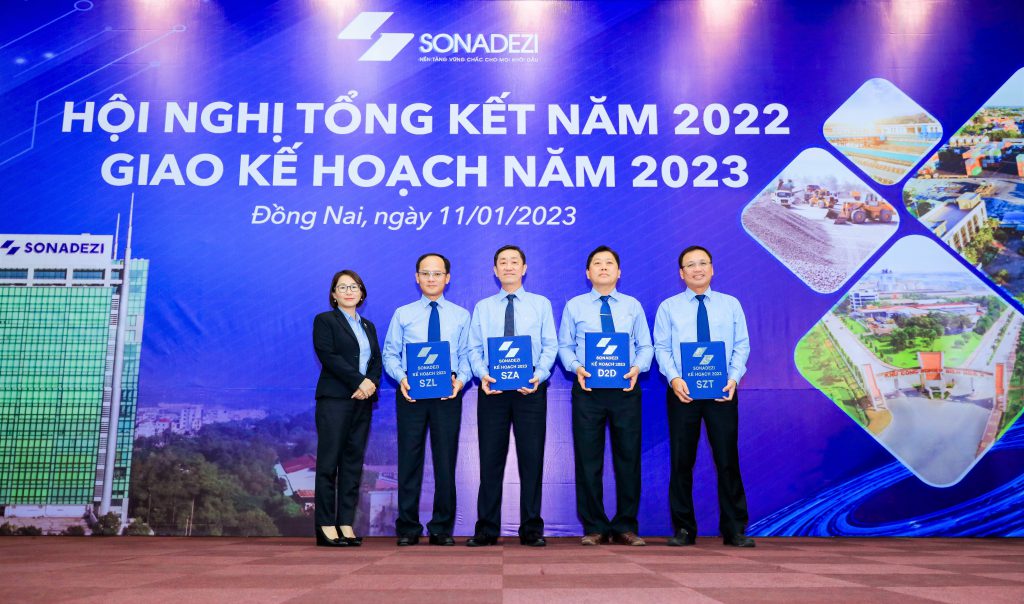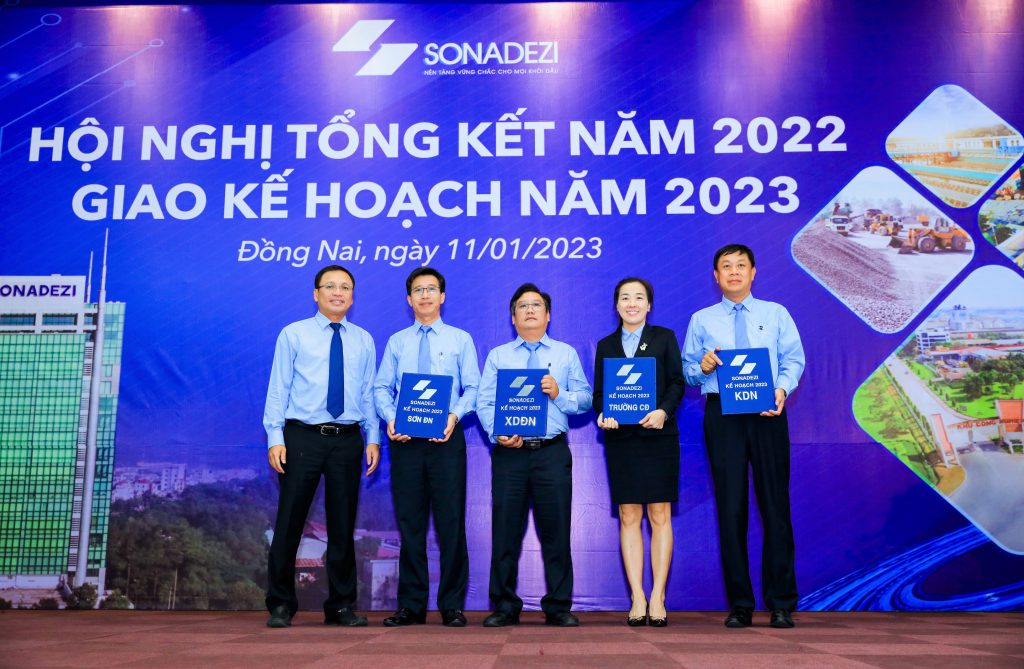 Sonadezi Corporation's BOD members entrusted the 2023 plan to the representatives of contributed capital at its subsidiaries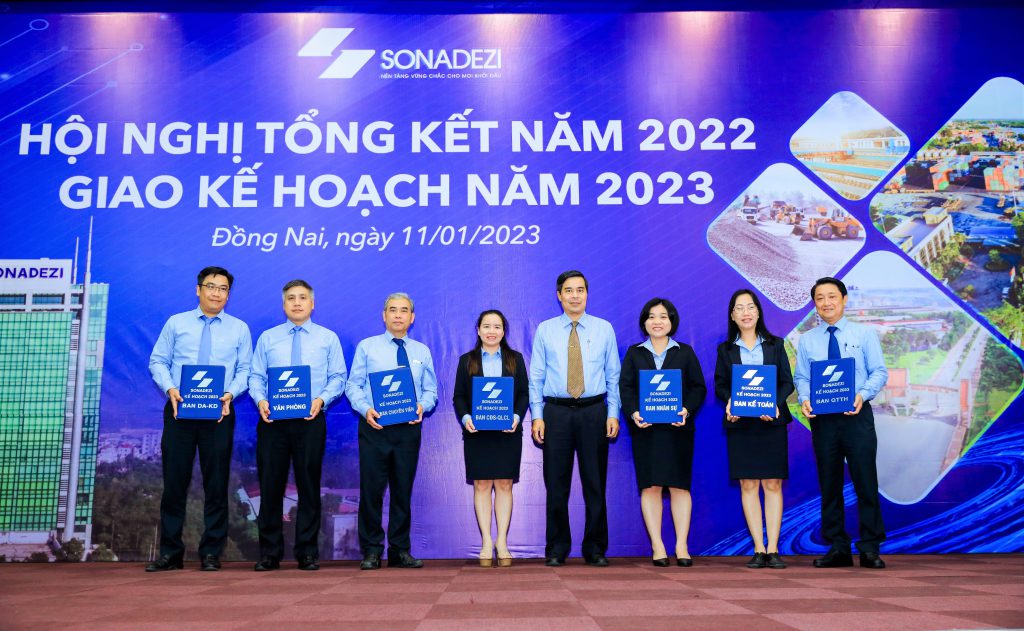 Mr. Tran Thanh Hai entrusted the 2023 plan to the Corporation's divisions and offices